To help make a low power low temp non freezing water system I may stick an aquarium heater in a horizontal run of PVC with horizontal water nipples. I've decided to use a rectangular cooler for a tank so the pipe with the nipples can make 90 deg bend and be tucked right up against the side of the cooler. Add a shop made outter box to keep away the weather and a few inches of extra insulation. Of course the nipples in the pipe will still be exposed, but as much as can be wrapped up with extra insulation will be. So I'll have this horizontal pipe with a low power heater. (There may be another heater in the tank itself.)
Here's the present design challenge.... If that length of pipe is at the same level (or lower) than the tap into the tank reservoir, warm water will exit the pipe to rise in the tank, and cold bottom water from the tank will replace it. If I use enough power I can warm the water enough to not worry about it. And maybe a pump for circulation would help. I'm exploring another way with just one or two lower power heaters. If I can trap the warmed water in the tube with the nipples, it will get really warm since its a small volume. In theory that should ensure the nipples won't freeze up. To trap the water, I could simply rotate that 90 deg fitting 45 degrees and add a 45 deg fitting to turn the pipe horizontal again. Likes this, pardon my lousy art.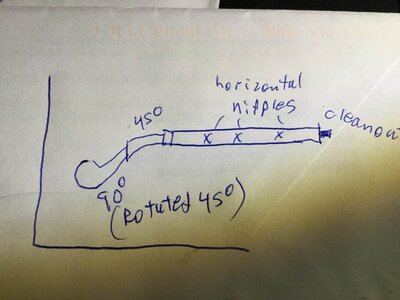 In theory that's looking good for trapping the warmed water where I want it.
BUT..... as the girls peck at the nipples, should I expect an air pocket to form in that pipe? That might kill this idea and send me back to thinking of higher power heaters and/or mechanical circulation.
Thanks for thoughts