Hello, all. All 3 of my summer hatch chicks turned out to be boys. Drat ... city ordinance does not allow me to keep roosters. Boo/tears!

Have rehomed one already. So... it's time to part ways with the last two baby roos. "Cheep cheep" (FREE) to good home with a flock of gals to call their own. They are very bonded as they were raised together, but do NOT need to be adopted together. 17 weeks old (hatched July 21). Wondering if anyone in So. CA is interested in adding either a Black Copper Maran or a Blue Splash Easter Egger to their flock? Pretty please?!

)
More info... So far, these two have been fairly demure as they've been underfoot of my 5 bossy & mature hens since hatching. They mostly hang out with each other, and sleep with each other. While the roos still act skittish around the hens, they are both just recently starting to show more confidence around them. They aren't acting aggressively, and while they aren't super tame they will quiet when held. They free range the yard with my girls every day. Will also come into the coop when called with treats (or at dusk, whichever comes first).
Let me know if you have any questions.
*I'm in the "Inland Empire" area of So. CA
BCM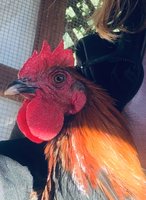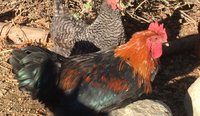 BSEE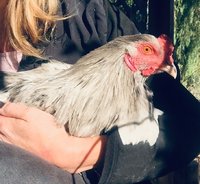 Both boyz together