Just some new pics I have been taking of some of the birds.
Blue Andalusion chick, the only one left. Appears to be a girl though.
Buffy my buff rooster. I need a girlfriend for him now. Maybe one of my two younger buffs is a girl:
Young black girl:
One of two blue bantam orpington girls:
Bantam barred rock roo:
Frank the serama roo:
my son holding a young black pullet:
daughter holding one of my oldest silkie girls, she is so dirty and molting:
son holding my blue orpington roo, what a sweetie he is:
kids holding my two faverolle hens:
son holding second blue orpington pullet:
My cream colored serama pullet:
splash silkie (look at those feet)
here he/she is with my serama roo: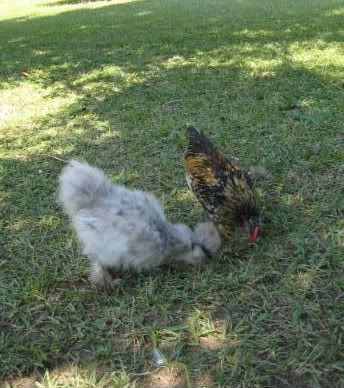 Faverolle roo:
My lonely muscovy duck:
And a dirty wet silkie hen who doesnt know how to get out of the rain, or the mud:
Hope you enjoy. You can go see my babies under the baby section.
Marie