🥇Ukraine 🥇
Premium Feather Member
Nov 5, 2018
5,931
49,419
992
I seem to always be changing things up
for some reason. So yesterday I decided to switch over to Horizontal Nipples for the waterer. I have used them in the past but I always had cups also with them. This time I went from the flip over waterer to Horizontal Nipples alone. I did this for a few reasons. Main reason being a cleaner water source for the flock.
@aart
stated in a different tread that he only needed to clean his waterer a few times a year. In the summer I clean it every day due to slim build up. Winter I was doing it every 2 days. In the winter it's not that the water was going bad it's more the birds getting the water dirty. My main goal is to only have to change the water about once a week. Really anything over two days is a win win.
I also installed a 50 watt aquarium water heater in it for the winter. I wanted to make as little holes on the top as possible to minimize any possible water contamination. I drilled a 5/8" hole and installed a 3/4" tapered rubber plug in it. This will be my fill port using a small funnel. On the side I drilled a 1/2" hole and installed a grommet just under the lid. I cut a slit from the top of the bucket down to the hole and also a slit in the grommet in order to get the power cord in for the heater. The grommet is not really tight around the cord and allows air in to avoid vacuum lock. I installed 5 Lovatic Horizontal Nipples around the bucket. Bucket is hung from the handle using a standard shelf and closet pole hanger bracket. As the weather keeps getting colder I may add some insulation around the bucket. Once I installed in the coop some of the birds came over right away to investigate and started to use it. I left the old waterer in for a few hours and took it out.
Question: I have seen some of them use it but not all. Any reason to worry or the others not seen using it will figure it out once thirsty enough?
I am on well water so I hope the water stays fresh to get me at least a weekly cleaning/change out. I would think those on city water with the added bleach will do better.
@aart
what are you on?
With me needing to have duplicate of everything I do, i ordered Rent A Coop Horizontal Nipples this time because it looks like they have a little deeper notch compared to Lovatic.
And here's the photos: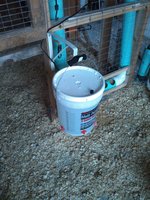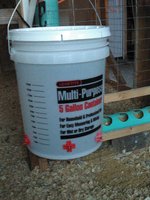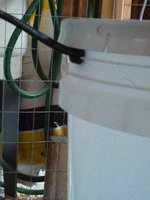 One major side note :
Never add any treats to your existing feed. With some of the birds molting I added a bag of high protein 29% snack/treat to a bag of feed and mixed it together. What a dang mess. I sat and watched one bird for about 5 minutes pulling the food out just to get at the treats. NEVER AGAIN. I really liked this homemade feeders as I really didn't have any wasted food with it. So much for that!!!! You can see the mess on the floor under it.



Last edited: