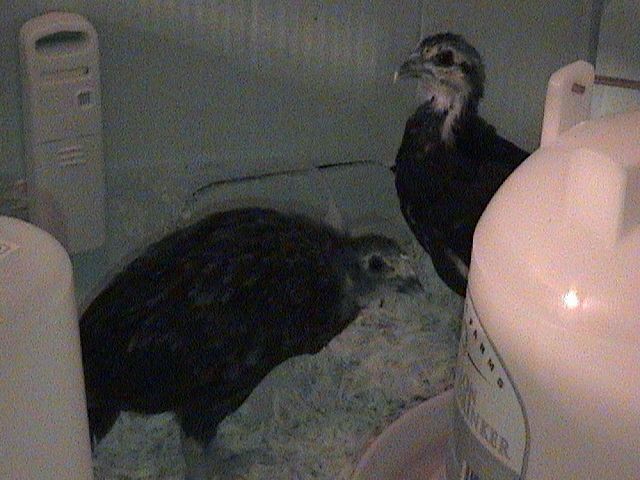 I hope I added these pictures correctly and they aren't the wrong size or anything.....
I will try to make a long story as short as possible.
First of all, thank you to everyone on this website for saving the lives of these baby chicks.
A former neighbor introduced chickens into our suburban neighborhood (for some reason), and they have been running wild for over 2 years now.....I have always liked having them around, even though the roosters crowing in the morning took some getting used to. For 2 previous springs, the mother hens raised their babies in and around my yard and I never had to intervene. At one time, there were probably about 20 chickens in the neighborhood. Right now, I would say there are between 5 and 10.
I accidentally stumbled onto a hen sitting on eggs in a thicket on the edge of my property almost 2 months ago. Every evening after work, I would check from a distance to make sure she was still on the eggs. After about 4 days, I came home one evening and she was gone, and 6 of her 16 eggs were gone too. Soon it got dark, and I knew she was not coming back. I didn't know ANYTHING about chickens, but common sense told me the eggs would die if i didn't try to help them, so I brought them inside and put them in a Chex snack bowl on top of a wool hat.
I did a quick search on Google and found out they had to be at 99.5 degrees and I had a small thermometer and a Sunbeam heating pad with 6 temperature settings and no auto-shutoff, so I did my best. I figured all of the embryos would die for sure under such conditions, but it seemed to be a sin to leave them outside and not try to help.
The next day at work, I did more searches for all of my questions, and I always ended up on this site. In fact, within a day or two, I stopped doing searches on Google and just did them exclusively on this site. I learned how to candle the eggs, and sure enough I saw movement in some of them. I couldn't believe it. I immediately went out and got a real incubator and an egg turner.
After almost 2 weeks, 2 of the eggs hatched into the chicks in the top picture. They are now about a month old (as pictured), and they are doing great. I think it's a miracle, but it could have never happened without all of the information on this website. You guys saved their lives and never knew it until just now.
About 2 weeks after that, I found the 2 younger chicks from the bottom picture wandering around my yard without their mother. They were only a day or two old, and I was able to catch them and bring them inside. They are now about 2 weeks old (as pictured).
It sounds like there is a new predator around who is causing all of this trouble. I haven't figured out who or what it is yet. Maybe it's one of the dogs running loose in the neighborhood...I'm just not sure.
The problem is that these babies are not safe around here, so I am not going to release them when they get older. I have been raising them in an empty room in the house, but I don't think they will be able to stay in the house when they all get big. Also, I have no idea what kind of chickens they are, or what sex, so obviously they could start breeding, or roosters fighting each other, etc.
I am trying to find them all a good home. I may have to come up with a way to trap the other wild chickens, but right now I am concentrating on these 4 chicks. I thought I would come to this site because you have helped me before, and because I have noticed there are alot of people posting who own and love chickens and who live within 200 miles of me (I'm just outside of Asheville, N.C., in the western part of the state). When they are all old enough to travel (whenever that is, you tell me), I would personally deliver them to anyone on this site who can offer them a GOOD HOME. I would strongly consider driving even farther than 200 miles if I found the right person to help them.
If anyone is interested in giving them a home, please respond to this post or PM me.
Thanks again,
Tom