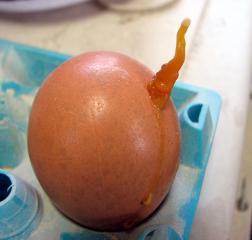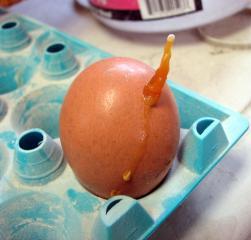 Okay. Just wanted to say this is the weirdest flipping thing I have ever seen. And it was NOT there yesterday!
It's an egg that was under a broody and has been in my incubator for the past five days. I'm going to guestimate that it was on day 12 or so (and definitely had a live embryo in it when I candled it before putting it in the bator) and had no signs of cracks. Yesterday I checked in the incubator to add water, nope, no creepy yellow thing poking out of the eggs. And today, well, that's what greeted me. Definitely rotten, it stunk to high heaven and when I pitched it after getting some photos that nasty green/yellow/brown goop that signifies "rotten" went flying everywhere.
Has anyone ever had this happen? What on earth is it?