Quote:I have one of those for my dog... wonder if I could just use it for the chickens as well, as the dog doesn't use it much anymore.
I thought the same thing this past spring when I was watching my young chickens peck around their yard. And since I was procrastinating real work

I spent some time rummaging around our property for chicken "enrichments." I found an old wooden ladder, probably not sturdy enough for people (it's a 6 foot ladder, which I wouldn't recommend in a non-covered run...) and a few stumps of various sizes. I also found a lot of limbs from a tree that had fallen the previous fall, and I happened to have just watched one of those survival shows (the one with the old military guy and the old hippy guy...) where they had built a dome-type shelter out of limbs. So I built them a little shelter, which very quickly turned into their dust bathing area. I also had two tomato plants planted in their run with chicken wire around them, so they could pick at it when it grew outside it's little cage, and I could throw them tomatoes when I went in (they were two I didn't have room for in my garden).
My chickens also free range a lot, but when I have to/choose to keep them confined I don't worry as much about them getting bored. And I do take them garden scraps on the days they stay inside.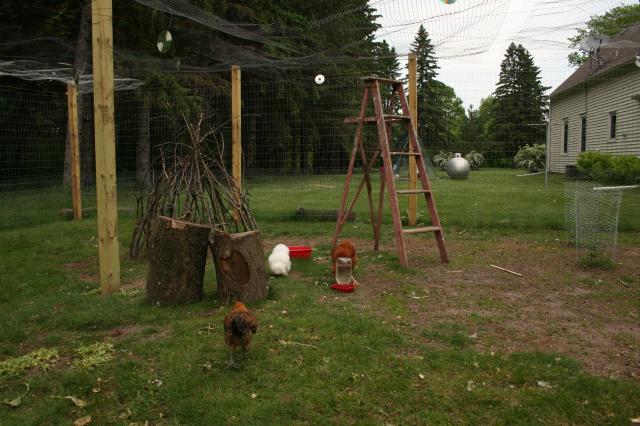 Next spring I also plan to build them one or two "salad bars," a wooden frame topped with poly wire and planted underneath with alfalfa or some other protein rich green, so that they have fresh greens to eat. I didn't do it this year because there was still grass in the run.