were did you get your WTB..? and are they a breed..? or a cross..? can they fly to escape..?

how many eggs a week..?

also do you or any one , who knows about the Sapphires..? i believe they are cross of a cream leg bar roo X a white leg horn hen, but thats all i know , just needed egg & temperament info on both the WTB & Sapphires

THANKS
I got one each of the WTB and WTG from Murray McMurray this past June. I get an egg every day from both birds and the eggs went from being small to being the large size you get in the grocery store. My WTB is friendly & will perch on you but the WTG is timid and will only sit with you on her terms. Both are about 1/2 the size of my Buff Orps of the same age. They are beautiful girls & lay beautiful eggs.
Picture 1 is Jessie the WTG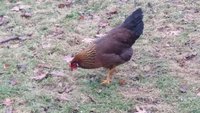 Picture 2 is Jordan the WTB