So i picked up three little poults on Saturday. The guy who hatched them called them red, white, and blues because he mated a blue slate to the bourbon red, and they are the sweetest little things ever. my husband wasn't all that thrilled with me adding new kinds of birds to my flock, but it was love at first sight (and how could he complain about me *accidentally* getting guineas in the May swap?)
I built this coop for my roosters.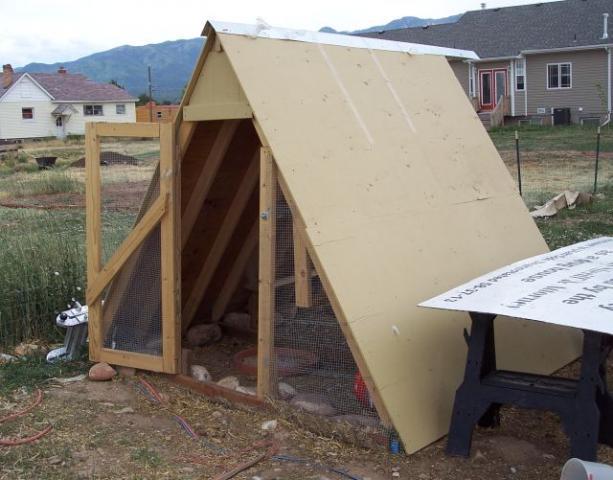 And plan to do an identical one for my turkeys and guineas. I know I'll have to put in some kind of wind break and stretch a heat lamp for the turkeys once they are ready to move out of my brooding pen (way before they reach twelve weeks), but I wondered about other requirements. I intend to use some plastic or possibly wood to block off most of the wire-only end panels for winter, but wondered if guineas or turkeys were more or less hardy than my chickens. I close all of my windows in the coops at night if it's getting below 20 degrees for the night--at least in the one with my frizzles and silkies, and if it's going to get much colder than that for my LF. I'm trying to decide if I should treat these other birds like my LF, or what...
The way I oriented my A-frames blocks the worst of the weather, but allows plenty of air flow so they can keep cooler in the summer sun, since we're still trying to get trees established.