May 24, 2021
929
2,974
306
I have two problems...one of which I can't do much about (husband) and the other I need yalls help with...the unleveled run!
I did this article which explains the unleveled run. It is out of metal framing which my husband then did all 4 corners with t-posts into the ground bout 2' to anchor it into place. It has a tarp covering the entire run leading to the newly finished coop.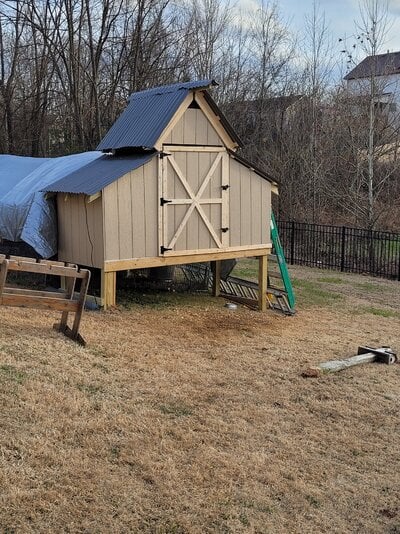 What began as an empty nester's mothers day gift from my kids this year has turned into the most expensive yet peaceful time I've had since coming to know God! While the cute little pre-fab coops seemed perfect for a small backyard and had all the hard parts done for ya (cuts n...
I don't think I could ever "lift" the lower side of the run to make it level...even if I did remove it from the t-posts on corners.
Husband also does not want me putting an entire roof over the run like the coop either. So tarps it is...
but when we have days and days of rain the ground is so saturated it is literally like walking in puddles through our yard even though it is on a slope. The rain coming from the tarps as well as the runoff then makes the run nasty wet.
Do yall have any suggestions as to how to go about correcting this problem?
All help is
greatly appreciated!