PLEASE don't send hate my way if I am breaking some purist poultry show-er law
. I have no fantasies of grandeur. Just a chicken girl trying to step up her poultry game a little

Disclaimer done...here goes:
I am entering a few of my chickens in two shows in Florida this January/February. I want to buy "real stock" this coming Spring, but I haven't picked my breed yet. I want to kill two birds with one stone with these shows - gain experience for the 2020 shows when hopefully I'll have "real" show chickens, to see breeds in person to help me make a final choice, and also meet people selling them.
I only have hatchery imitations of breeds, but I was hoping someone would tell me 2-3 of them that look the "least bad".
I know they aren't like the purposefully bred show chickens
. Please, please, don't reply just to tell me how bad my chickens are. They're one-year-old hatchery imitations, I just want to pick the best 2-3 chickens of what I have so I can say I tried on some level. I need help with this though, if anyone wants to be kind...
This is what I have (you may have to click attachments):
Welsummer Hen
BANTAM AMERAUCANA HEN



ANDALUSIAN HEN



SPECKLED SUSSEX HEN



BANTAM SHAMO BLACK - HEN



BUFF BRAHMA HEN - But she's a little small I think???



NAKED NECK HEN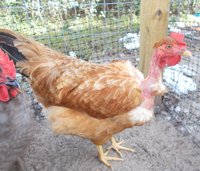 I'm definitely showing my Welsummer rooster just because he's my favorite, so he's technically not in the running. Just including him in the list.