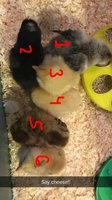 Hi y'all! I recently bought myself some little ladies from an event known as Chick Days at Lemos Pet Supply on the 24th; I was able to see all of the lil cuties and ask for specific breeds from the handler himself, but sadly in the fit of all the excitement, I forgot some of the breeds ‍
I have six little lovelies, I believe they're all about a week or two old and they're all adorable!! I have so many questions because I wanna be the best chickie Mama I can be!
Enough rambling about the cuties though I grew up moving from house to house and as of recently I moved in with my boyfriend and his family who live on an avocado farm. They themselves already have a pig, five dogs, two cats, two ducks, and four chickens (three roosters and a hen). I get along great with all the animals except for two roosters They're Jersey Giants and the black one likes to think he can push me around. I was scared of them for a while (Okay I still am! ) but I've gotten better at charging right back at them! My boyfriend and his mom thought that it would be best if I got to pick out and tend to some chicks to get over my fear of them. Needless to say, I ADORE my babies and if any ol' rooster tries to get to them, I will make chicken soup out of them!
Anyways, I thought it would be best to sign up here because Google doesn't always seem to have the answers I need and I want to spoil my chickies without harming them or scaring them