I have a 77 chicks! So I'll divide the pics between a few posts...plus I may not get to all the different buggers I have in a timely fashion!

I think this is a Silver Spangled Hamburg..only because I saw one identical posted on the chick board. Whatta you think?
This is Clucky!

He's my son, Raffi's chick. He has feathery legs and I have seen Marans that look similar. Ideas?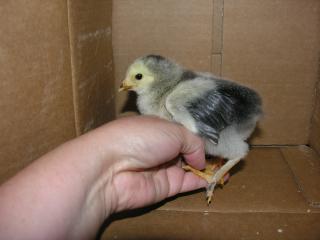 Quasimodo! Though the breeder did not have Turkens, one hatched! How does that work??
No idea!

I have a few of these and their beaks are even mottled!