Chook Snuggler
Premium Feather Member
6 Years
Apr 3, 2015
8,297
11,525
916
I originally posted this in the wrong section, so hopefully there'll be more responses.

A week and a half ago, someone went behind my back and hatched out a couple of beautiful peeps. Knowledge of their variety would be wonderful, if it's possible at this age.

Both are bantam class, and almost certainly pure OEGB. Crele-type, to be exact, due to a spot on the head. However, leg color isn't shaping up to be pink (maybe eliminating 100% Crele parentage?). One sports an unusual yellow cast, and the other's (though most pictures are washed out) feet appear blueish. I'm pretty sure they'll be slate-legged in the future.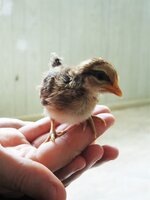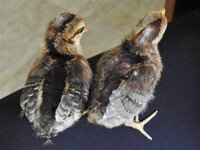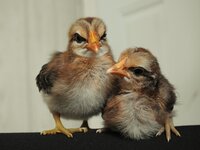 Anyhow, here's a list of OEGB colors found in our flock:
Crele
Red Pyle
Blue/Splash Breasted Red
Brassy Back
Ginger Red
White
Barred
Spangled
Silver Duckwing
Although I've already ruled all these out for various reasons, here's a list of other bantam breeds, in case I'm incorrect:
Cochin
Hamburg
Rosecomb
Phoenix
Rhode Island Red
Easter Egger
Ameraucana
Buckeye
Polish
Wyandotte
d'Uccle
Faverolles
Silkie
~Alex