The other day I came home to the find the chickens hovering in the coop and one hiding in a small corner. There was a cluster of feathers on the ground. I noticed this hole in the ground and something about the size of a large fat rabbit, grey/brownish color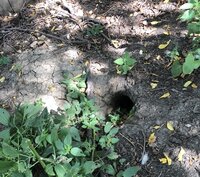 ran out from under the deck and escaped thru the fence.
I noticed a hole in the ground (see pic) it is about 8 inches around,
Any idea what animal may have made this?