My first set of fuzzy butts are here. The PO Distribution plant called this morning and I drove 45mins to pick them up, otherwise they would have had to sit at the plant all night because they came in after the truck left this morning. I put them in the brooder and ran out to the coop for my silkie surrogate mother and all is good!
I got Ideal's STD Assorted Cochin Pullet pack 16 total, no packing peanuts. 4 Red, 4 White, 4 Blue, 2 Buff, and 2 Gold
Black Betty our silkie, this hen is gold to me. She was helping raise 6 chicks with two of my other silkies and I just knew she would take these chicks if I put her in with them.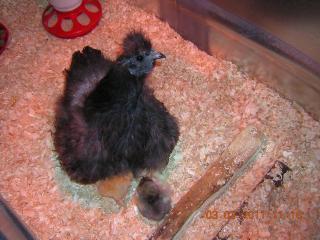 I am amazed that all sixteen fit under her!
I also have 33 eggs in the incy going into lockdown tomorrow and 25 day-old chicks due to arrive next wed. I am in fuzzy butt heaven!
Edited because I can't seem to spell today!
Last edited: