My MFCs have their origin in several places. My first roo, Champ, and 2 hens Lilo & Kiko came from Wingshadow Hacienda stock. Then I introduced well shaped birds--MFC, black mottled & buff columbian--from several other breeders until we have are own Shy's Creations
The mille fleur color in bantam cochins is not yet a standardized color. They are a project in the making. When looking at "project" birds be aware they may not have the characteristics of other cochins ex. feet color, beak color, toes, comb, body type, etc. Also the chick's down color is across the board from solid yellow to grayish to reddish to chipmunk patterns & more. Ask specific questions of a breeder before purchasing so you & the breeder are well aware of the expectations.Thoughts on breeding this color variety----
Decide what you want from your flock. What makes you happy about your birds? The color, shape, personality, bug catching, antics in the garden, the little eggs for eating or hatching? This color may never compete with Blacks or Whites in our lifetime when it comes to shows. Personally, I won't raise colors that require me to isolate them from sun nor do I wish to leave mine caged all day--mine enjoy the run of the yard when I'm home. It takes alot of culling and growout space to produce birds on the way to the Standard of Perfection. As I move into 2011 with my flock, I am narrowing the # of brood birds to better isolate body type & color. Is the Standard important or not to you? Are shows for you? They can be lots of fun visiting with breeders, visitors and watching kids get all excited about their animals. As in all of society, there's a wide variety of people at a show. Many are quite positive, supportive of a new color/breeder. Some people take time to mentor. Many are drawn to the mille color. Then there's the other side of the coin, which can be discouraging. A serious wyandotte breeder asked me if I'd ever seen/heard of the Standard of Perfection! (as he shook his head looking at my mille fleur cochins)
Read the Standard to help fill your knowledge of the breed/color. Find out how color genetics function in poultry. The CHicken Calculator is a neat tool but doesn't tell everything such as inheritibility of foot color, comb side sprigs, colors that "bleed".
Kiko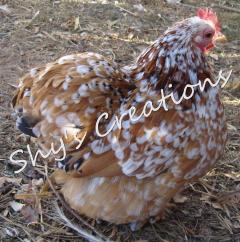 Beans-what a good mom she's grown to be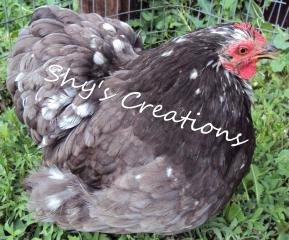 Emma
Am using the blue mottie girls to help with type so we'll see what this spring brings!
4/23/10 hatch--Rusti from Kiko/Chief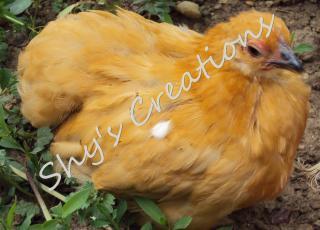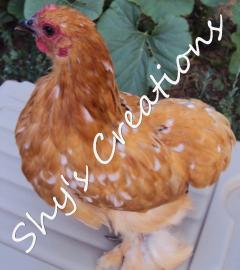 5 mos old
8/1/2010 @5 months old. Now compare him to sire
Sire Chief
His son Tank
Tank has improved comb points and a more compact shape & holds the forward low stance. See where his tail raises even before the edge of hackle feathers? Tank's mahogany is lighter, maybe more of a lemon. Tank is already breeding, first paired to the blue mottled hens.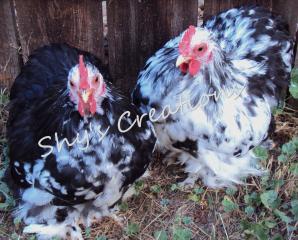 Two nicely typed black mottle cockerels from Nancy. Can't wait to see how Boots N Spurs grow. They have Karl Rau lines in their background
.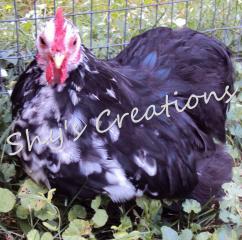 Boots
9/23/10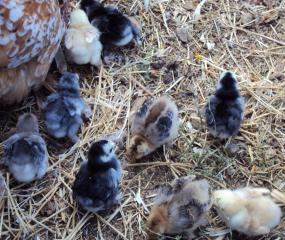 This shows some of their colors better
10/3/10 Tanker @ 7 months and growing beautifully. I am so pleased with his body type!

10/9/2010 Happy FaLL Everyone!! Broke out treats for the birds and setup Jack O Lantern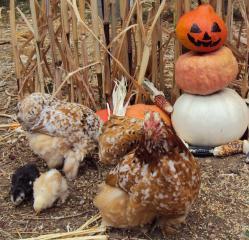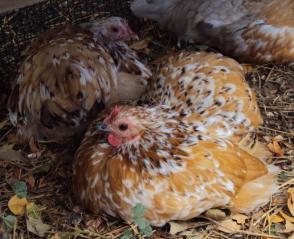 Rusti & Harlee
Dally

10/23/10 Our mille fleurs went to their first show today--Rocky Mtn Feather Fanciers. It was lots of fun, visiting with other breeders who really gave of their time. My feet & back are killin me though!!

Harlee at show
10/31/10 Happy Halloween---took some pics of MFCs or splits I'm holding back to grow out.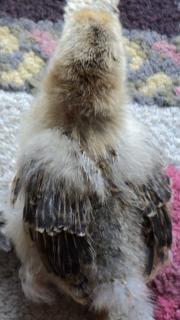 Ember at 3 wks old on 12/19/2010