I'd love to find a buff/splash silkie--with a creamy buff base & dark flecks of gray & caramel.
Please contact me if you may have a hen/roo available--willing to trade or purchase.​



--Our small flock has included various breeds from Polish, Ameracauna, cochin, Mille Fleur D'unccle, BLR Wyandotte, silkies, Marans, Barnevelder. My favs are the cochin & silkies--the other breeds are just for layer hens. My husband, son and I keep a very small flock of project mille fleur cochins and buff/splash/lavender silkies. How the Poultry Bug found usIn 2008 I started incubating shipped fertile eggs with poor results at first. Steep learning curve that involved working with Colorado's dry climate in the foam incubators-- a still air model that didn't work for me. Now with more education and reliable equipment (forced air incub), we've had greater success hatching out.


We are NPIP, members of ABA, ASBC, Colorado Poultry Assoc, & Rocky Mountain Feather Fanciers.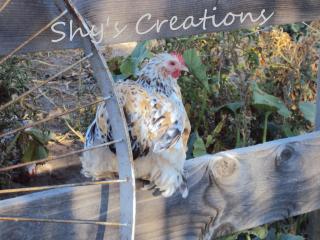 One of my favorite photos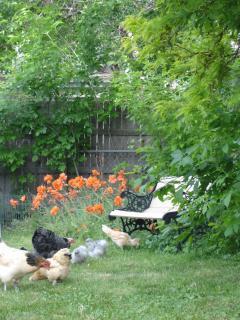 The orange poppies are brief but doesn't it make you want to pull up a chair and take a deep sigh? I think the sight of grazing animals, whether its chickens, horses, cows, sheep, etc. give people a calm feeling. As if to say, everything is all right with the world.
Sampson likes the vantagepoint too
He mock charges at the hens,to play. My cat has never bothered even baby chicks in the basement. He was an adoption in 2000.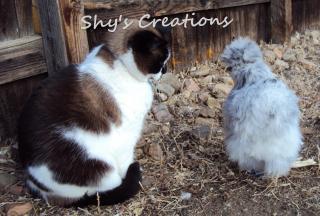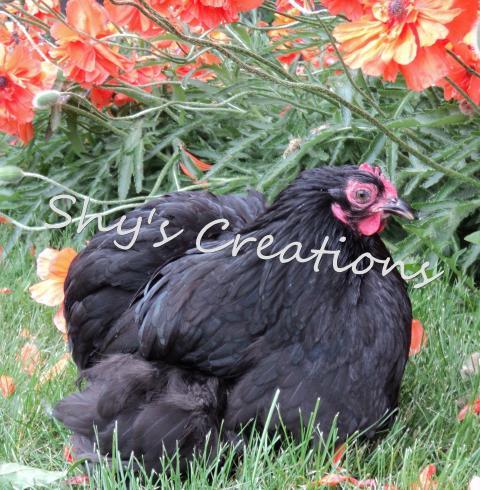 B
s Sp