BIG OAK HUNTER's BYC Page
I am from Northern Michigan and my name is Dave. I raised chickens for 5 years back in the early 1990's. Then a change at my job forced me to give it up. I recently retired after 33 years and the crazy thing is, one of the first thoughts I had was let's raise some chickens! I started looking for chicken coop ideas and breed information on the web. Little did I know all roads would keep leading back to Back Yard Chickens site. Talk about a wealth of information....WOW!
I figured out the 3 breeds I wanted, Barred Plymouth Rocks, Black Australops and Ameraucanas. So I put an order in and got busy building a coop. I wanted it to be moveable. So I used an old utility trailer that sat off to the side of my property for the base. So, coop got built, with help of my wife Marguerite , son Alex and neighbor Tim. Next started working on a run. It is 8 x16 with one half being roofed and 7 ft. ceiling. Other half is 3ft. tall with no roof. All that is left to do is bury a foot of 1x2 inch welded wire all around run to keep varmits and dogs from digging.
Chicks arrived on 9-3-09. I only lost one in the first week. One of my Ameraucana/Easter Egger. Things have sure changed since the 1990's. Lots of more information. We used to just wing it. Now there are forums with lots of good info. Thanks BYC!!!



This is my Mobile coop under construction. Used an old utility trailer that had a treated plywood floor. Here I have the wall's roughed in, using 2x4's. Metal pole barn type roof. The circle is the spot for the nestboxes I was building to be installed. I used a 2x6 bottom board when framing this in as it gives more support for the nestboxes to sit on. The interior boards are pulled from 48 inch long pallets I got for free. I used these to keep chickens from Dow Blue Styrofoam that I insulated with.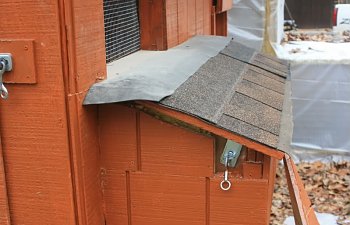 This picture shows the finished nestboxes. They are accessed from the outside, the shingled lid lifts up to check for eggs. It is secured from predators by latch. I used rubber roofing to cover the hinges and were slanted board meets other board. This has worked well as it is flexible and does a gret job of keeping water out. The nestbox like the coop has a double wall that is plywood on inside, T-11 siding on outside with Dow Styrofoam insulation in between. In this picture you can also see a window above the nestbox. I covered all the windows with 1/2 inch by 1/2 inch hardware cloth to keep predators out , but still allow ventilation. Each window has a hinged T-11 shutter that can be closed for weather extremes.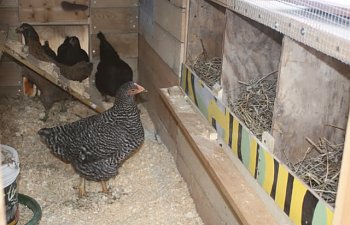 Here is the nestboxes from the inside. They are each 14 inches by 14 inches. The colorful board is a 4 inch front to keep the straw in the nestbox. This picture was taken on the first day I opened up the nestbox area to the chickens. They were 18 weeks old. This barred rock " Barbara" is investigating the new openings. I had a plywood cover over the whole opening prior to this. You can also see the hardware cloth covering the window in above the nestboxes. I fastened it with wood screws through washers then placed about every 3 inches to secure the screen from racoons and such. Screws with washers work better than poultry staples for securing hardware cloth or fence.
This is another shot of interior that shows poop door at far end. The roost is on the left with droppings board under it. The board is in 2 sections and covered with linoluem so it can be taken out for easy cleaning. Also in this picture you can see my homemade feeder and a heated dog dish , that keeps water from freezing. (Works GREAT) The feeder was made from a plastic planter tray and a 2 1/2 gallon pale with lid. I screwed the bucket the planter added a funnel on top and inside. Top to keep chickens from roosting on bucket. Inside to direct feed to the four 2 1/2 inch holes that feed comes out of. You can also see the deep litter method using pine bedding 6inches deep.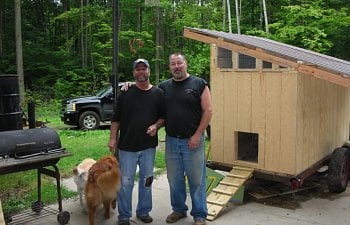 Here is coop with T-11 siding on outside before staining. You can see poop door opening and gangplank. This is my neighbor Tim that helped me with a lot of coop and run building. Tim is on left with ballcap and I am the big guy on right side of picture.
Here is a picture of the coop taken this winter 2009-2010. You can see the wheels and hitch. This coop is fully mobile and can be moved to new locations in my property. When i got coop finished I drove over to neighbors farm to show him my handy work. He said "he had seen lots of chicken coops before, but never one that could go down the road!".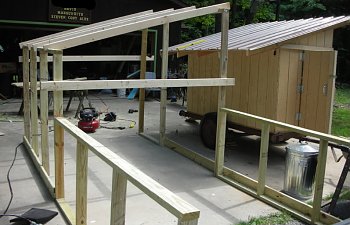 Here is coop mostly done with run being built. Run is 2x4 treated lumber. Roof boards are not treated as they will be under pole barn tin, so no need to spend extra.
Here you can see the fenced in run to the left of coop. Run is built in 2 sections and has a slanted roof of pole barn tin like the coop. There is a small fenced area that connects coop with the run. This allows poop door to open and a gang plank for chickens to come down. Run is 1x2 inch wire fencing screwed with screws and washers to hold it secure. Notice antique Montana License plate from 1976 on coop and antique 4-H member livestock raiser lives here sign from an old farm my grandparents had.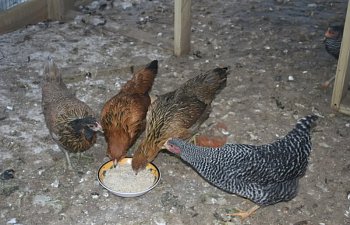 Here are some of the chickens just arriving at their large bowl of hot oatmeal they get each morning in winter. The cold and snow can be something here in Michigan. But my girl's come out and spend most of everyday in the run.
Plans for 2010: Build 2nd coop. Get more chickens. Specialize in a breed. Hopefully French Black Copper Marans, as the idea of helping further the breed towards the proper Standard intrigues me. Sell eggs.
Update: It is now Nov. of 2010 and I have 3 coops with roofed runs. Built 2 more this spring. This chicken thing is addictive, so be careful! I have some Davis line French Black Copper Marans that I am going to try to breed towards the standard. I have been reading threads on here to gather information and have gotten to be friends with a couple of people on here. It is fun. And there is tons of info. I also have a few Cottage Hill Marans. I also have Welsummer hens and a beautiful roo.
These are some of the Marans below: