The Hot Chicks Room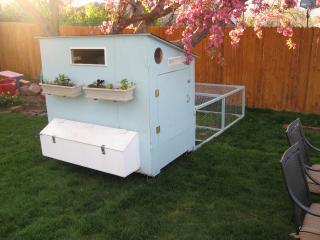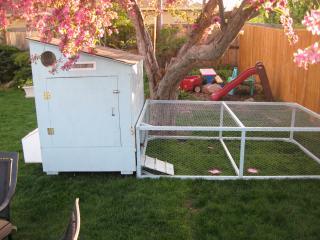 (click on images for a larger view)
Features:
- Lighter-weight 2x2 construction
- Insulated with foamboard
- Heavy-duty tractor wheels
- Sloped Roof
- Sliding door on pulley
- Fits through my gates if needed
- Fits our eight(8) chickens comfortably. Spoiled chickens.
- Plexiglass Windows
- Slightly under 6', and looks similar to a children's playhouse
Run Construction
The run dimensions are 65" x 25" x 43 1/2", built with 2x2's. The dimensions are a golden rectangle because I am a math nerd. Note the door entry. Another benefit to this design was using 24" chicken wire for the sides was really easy. All chicken wire was stapled with an Arrow stapler.
Coop Construction Photos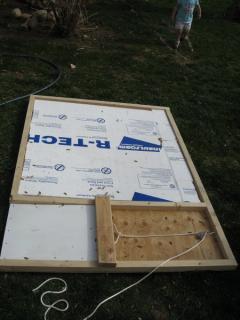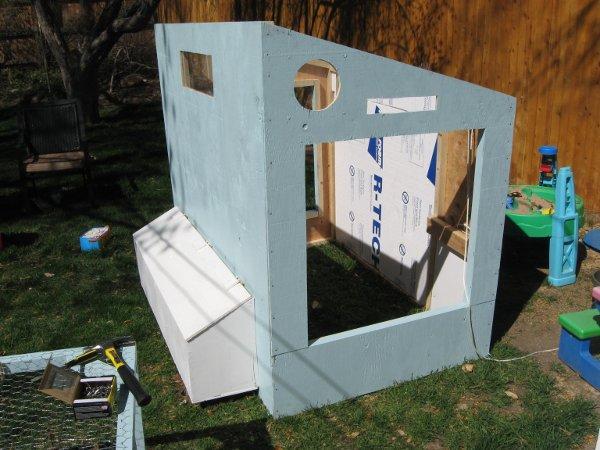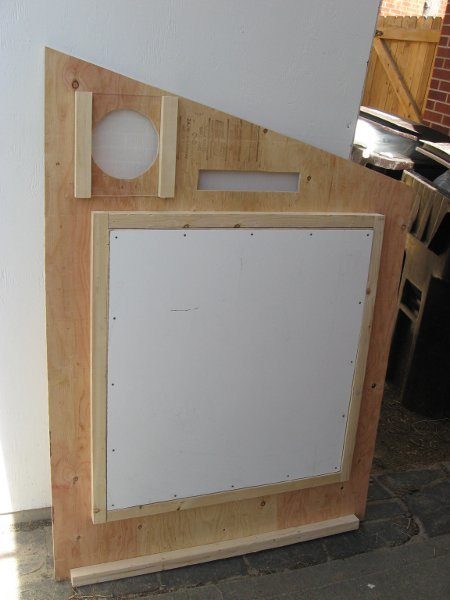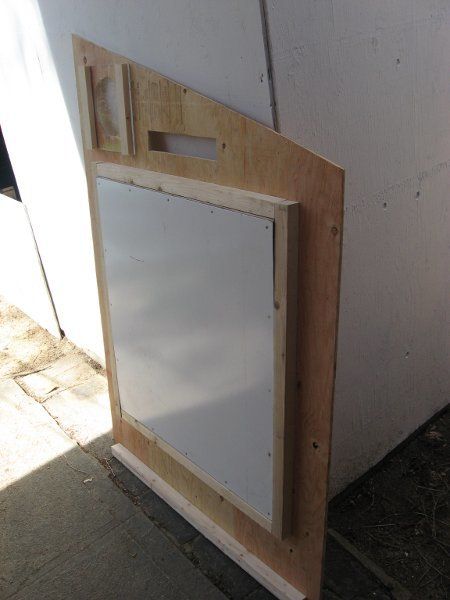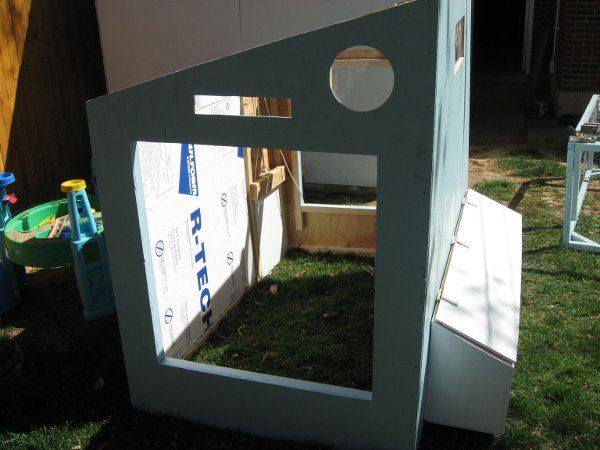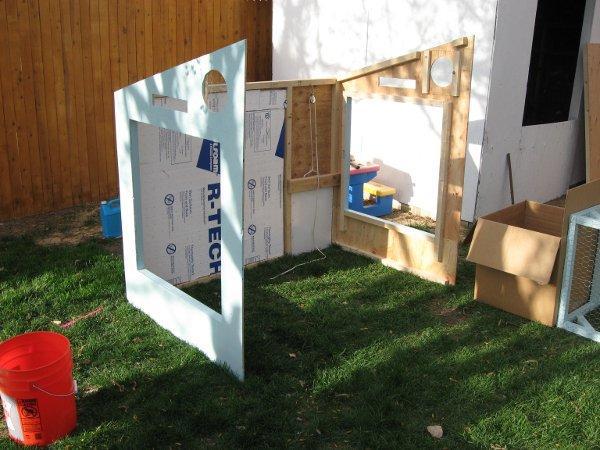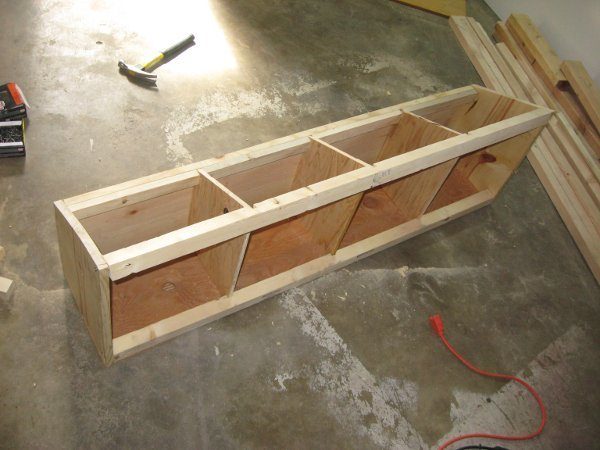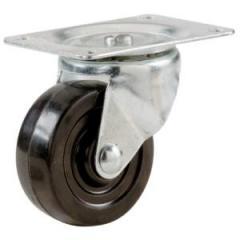 I heard chickens eat styrofoam, so I nailed some whiteboard over the foamboard insulation.
The coop width is 43 1/2" without the nestboxes, and 96" long. It is 65" tall in the front (with wheels), and 53" tall in the back with the wheels. Designed to be a little shorter than our 6' fence.
If I had to do it over again...
- The nest boxes could be a little higher.
- There was a gap between the nest box and the frame, not waterproof. Some chaulk and weatherstripping fixed that.
- It would be easier to clean if the 2x6 boards that hold the wheels were farther out. As it is now, the hardware cloth is over the boards and lots of bird droppings there.
- The roosts are in the best place possible(18" from the walls), but still there are droppings on the 5 gallon buckets that need cleaning every few days.
Thanks for checking out our page! Good luck with your coop project!
Materials Cost
| | | | | |
| --- | --- | --- | --- | --- |
| | Material | Qty | Price | Total |
| Lumber | 3/8 plywood 8x4 | 4 | 13.47 | 53.88 |
| | 2x6 stud | 2 | 4.32 | 8.64 |
| | 1x2x8 furring strip | 4 | 0.87 | 3.48 |
| | 2x2 stud | 24 | 1.87 | 44.88 |
| | panel board | 2 | 11.87 | 23.74 |
| | foam sheet insulation | 2 | 10.55 | 21.10 |
| Hardware | 3/8 bolt | 16 | 0.35 | 5.60 |
| | 3/8 nut | 16 | 0.11 | 1.76 |
| | 3/8 washer | 16 | 0.18 | 2.88 |
| | box wire nails | 1 | 1.24 | 1.24 |
| | 1 ¼ box nails br com | 1 | 3.47 | 3.47 |
| | rope cleat | 1 | 1.93 | 1.93 |
| | screw eye bolt | 1 | 1.89 | 1.89 |
| | pulley | 1 | 3.24 | 3.24 |
| | 1' nylon cord | 8 | 0.21 | 1.68 |
| | 3/8 staples T50 arrow | 1 | 2.97 | 2.97 |
| | 4" Wheel | 4 | 12.97 | 51.88 |
| | Util door handle | 2 | 2.79 | 5.58 |
| | Hinges | 7 | 1.78 | 12.46 |
| | 3d roofing nails box | 1 | 2.74 | 2.74 |
| | barrel bolts | 2 | 3.48 | 6.96 |
| | floor register / vent | 2 | 6.27 | 12.54 |
| | post hasp | 2 | 5.49 | 10.98 |
| Decoration | paint | 1 | 35.98 | 35.98 |
| | 20x32 plexiglass | 1 | 11.80 | 11.80 |
| | 24 inch box planter | 2 | 6.58 | 13.16 |
| | 24" box planter tray | 2 | 3.28 | 6.56 |
| | flower box brackets | 2 | 4.96 | 9.92 |
| Misc | roof starter strip | 1 | 13.87 | 13.87 |
| | shingles | 1 | 20.00 | 20.00 |
| | hardware cloth roll | 2 | 10.00 | 20.00 |
| | chicken wire roll 2x50 | 1 | 19.88 | 19.88 |
| | chicken wire roll 3x50 | 1 | 27.38 | 27.38 |
| | | | | |
| | | | | Total |
| | | | | $410.19 USD |