This is our brooder "Tank". I don't know if it will be accepted, since we didn't actually build it, except for the door and I didn't think to take pics of that process. But I wanted to share it with you because it has worked out great so far, and my chicks seem to be happy campers! Ok. Here is what we did. Last Friday, I drove past the house of a friend of my husband. Out on his front porch looked like a fish tank, which I had been thinking about for a few days for a great brooder. I actually think I got the idea from BYC. So I stopped and asked him if he wanted to sell it and he said no, I will GIVE it to you! Whoo hoo!!! I like free!!! It is a 20-25 gallon size. My sweet husband (what would I do without him)
picked it up for me that evening after work. Saturday I washed and disinfected it and let it set in the hot sun most of the day. We decided to turn it on its side to give more floor space to my 5 bantam chicks, as they were in a not too big cardboard box, and they were outgrowing it. So we discussed the type of door we would need and how to attach it. This is what we came up with. My husband ripped (with a circular saw) a 8x 1/2" board 3" wide for the bottom piece (to keep the shavings from being kicked out). He made it about 1 -1 1/2" wider than the opening of the tank. For the top piece he ripped it 1 1/2" wide. The side pieces are ripped the same as the top. The side pieces set on the inside of the top and bottom piece. He stapled chicken wire to the frame and screwed the corners together with 1" screws. We attached it to the tank with long strips of good ole duct tape as shown in the picture and a wide piece connecting the tank and the door across the bottom. DH put a screw in the center top piece and inserted a wire under the plastic band that is around the tank and we hook it around the screw. It sets on some great metal shelving we bought from the same guy at his garage sale for $30. Don't cha just luv garage sales!!
We attached the heat lamp to the top of the metal shelving. The heat lamp heats thru the glass. We have watched the temp very closely, but didn't have to adjust it much at all. I then lined it with newspaper and added shavings on top of that. To clean it out, I just fold up the newspaper and discard! I wipe out the inside by spraying equal parts of water and white vinager in a spray bottle. Couldn't be easier! The chicks can see when we are in the utility room, (where we keep them), and anyone coming in the door. They have much more room and seem to be very happy. No one is too startled when we walk up to them. It also seems to cut down on the dust. I'm looking for a slightly bigger tank as I have 16 more chicks, Araucanas & Speckled Sussex, coming in 2 wks
and would love to be able to put them in a brooder "tank"
Thank you for such a wonderful site to have fun with sharing our chickens and chicken stuff!! Sorry about the poor quality of the pics
. Just learning! Just a last thought. The only draw back is that the tank is very heavy, and you can't move it around without help. Also, we have had to change the duct tape as the shavings fall thru and stick on the exposed part of the tape. That didn't take very long to do, but just letting everyone know.
Brooder Tank Brooder Tank Latch Brooder Tank w/o Light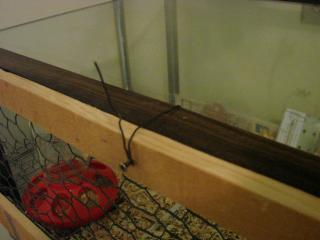 Brooder Tank w/ Light Brooder Tank w/ Light
HAPPY CHICKS!