[FONT=comic sans ms,sand]
Easter 2010 Chicks!
[/FONT]​
[FONT=comic sans ms,sand]

Eggs due to hatch Easter 2010 are......... Brahma and EE all of which could be mixed with each other. I also 2 days later I added 10 store bought farm fresh eggs in which I opened two to check fertiliy. I have not a clue what they will be, the guy from the farm said "red rocks"?? What ever that is! So they will be a surpise!! YIPPIE!!
ok verdict of day 9.5 candling
Easter egger - started with 7.... looks like 2 are iffy, but their sooo dark. all I could see was the air sac, a dark area and a light area on all of them. so kept them all
Bantum eggs (not sure if their brahma or silkie) all were wigglin little fools
and we bought some brown farm fresh eggies from our small store added them 2 days later
10 set, 3 look bad. but I kept everything in there and I'm going to look again on day 13 (Thursday night) which is these eggs day 11
I think they had a blood ring, but being my first time. I haven't a clue. They did have the air sac, dark area, light area. But I couldn't see movement and my eyes were ready to go buggy.
so 17 out of 22 is pretty good. These little GALS will put us WAY over of limit.
We got more room to grow!
3/25/10 ~ Threw away the one with a blood ring

it was one of the store boughts.
4/2/10 ~ one pip, one hatched

brahma X ?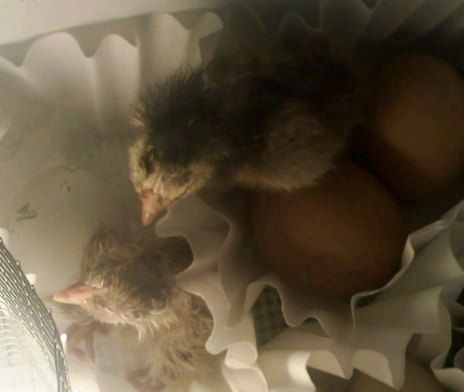 #1 a brahma welcoming #2 an EE (now named Butterscotch)
and now 4/5/10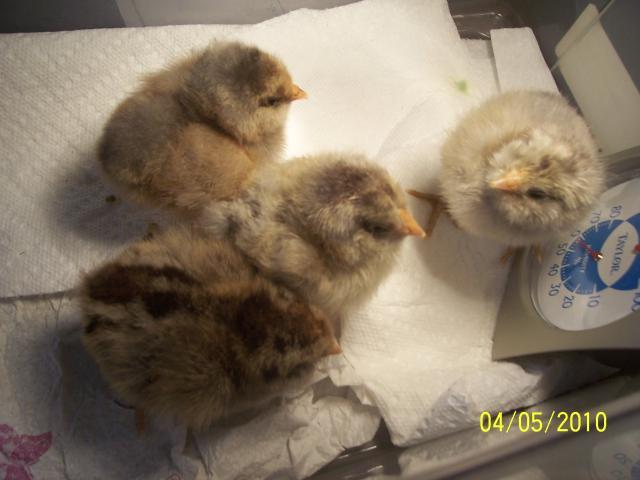 My Easter Egger chicks X (with EE,brahma or silkie)(4)
:O( the dark EE died 4/19/10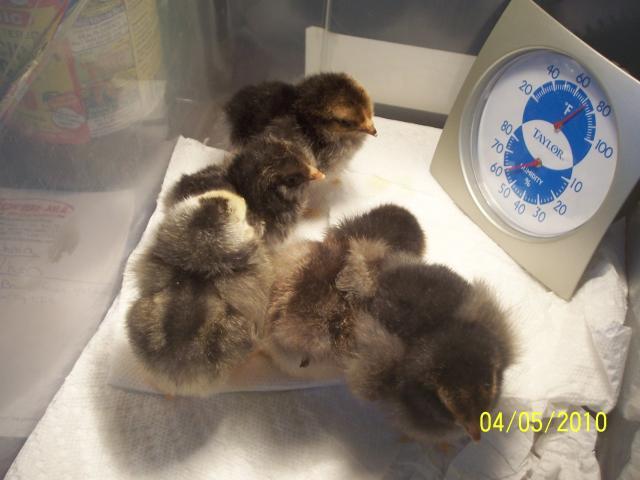 My Bantum Brahma X (with EE,brahma or silkie) (5)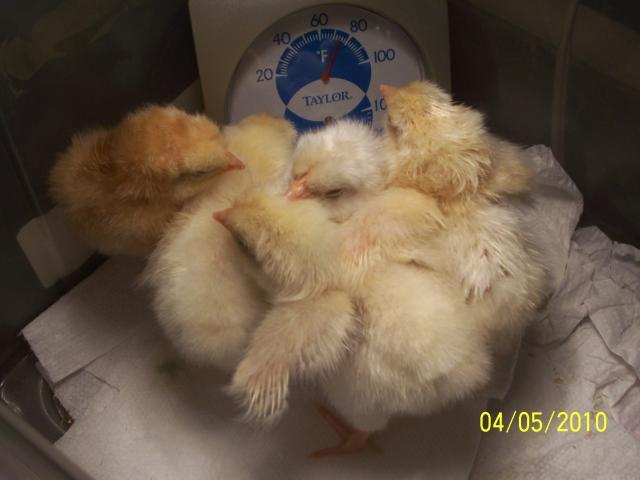 My Store Bought mystery chicks (5)
all in all it's not bad for my very first attempt at inubating eggs. 14 out of 22 eggs

updated pix coming![/FONT]