Freezer-Bator
Heres the beginning of the freezer-bator, in the top it has 2 computer fans, a heating element out of an old incubator my m.i.l. had. In the back is a thermostat. We added a shelf to hold the fans and to block direct heat on the eggs. All those wires were tucked away, this was a pic of it in the works.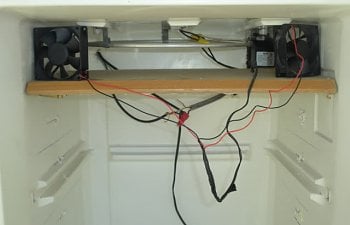 In the bottom you can see a white light bulb and wire bent to make a hatcher. Under the hatcher i placed a glass baking pan, and filled it with water. The wires were all tucked away.... and i added a non slip shelf liner for the babies when they hatch, and itll make it easier to clean!
Moving on, we installed 4 shelves, they all turn and the same time with the turn of ONE handle. They are all made from pvc pipe. I used cartons (with holes in the bottoms to maximize air circulation) to hold the eggs, each shelf can hold about 4 dozen eggs.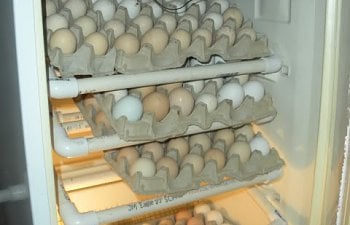 Now that you saw the inside, time to take you outside... here you see the red indicator light. This lets me know its on. It's wired to an outlet that controls the fans and light in the bottom hatcher. When the thermostat kicks on, the fans and lights come on. The fans do not stay on constantly. They are used to force the air to circulate until ideal temp is obtained. 99.5 degrees. The thermostat kicks off when it reaches that desired temp. The humidity stays around 50%. I have 2 hydrometers. I in the top one in the bottom. They both stay the same! =)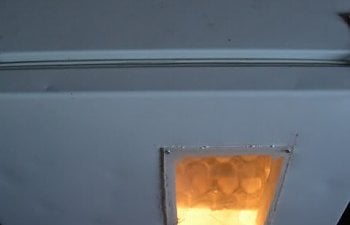 I moved my eggs from my LG into this one to hatch, they will be hatching this weekend. I put eggs in 5 days ago, and I candled them and saw little embryos & heartbeats! ITS WORKING!!!!!!!!!


UPDATE: So far i have 28 baby chicks, and more on the way! IT WORKS!!! I set about 40 eggs to start.

Here is my parts list:
Freezer (free off craigslist)
Thermostat $23 (Lowes)
Old heating element $0 (out of old incubator)
2 computer fans $0
1 outlet $0
PVC pipe, elbows, t's and crosses $15
Cartons $0
Wire for hatcher $0
Light for hatcher $0 (moved from top of bator to bottom)
Glass pan for water $0
9 volt dc converter for fans $0
Non slip shelf liner $0 (got from Granny)

Total cost = $38
​