Welcome to my Granja de Pollos...aka Chicken Farm!

Ok, so it's not really a farm... But I do have chickens!! This page is to display my newest coop design.
It is constructed out of Cull wood bought from Lowes Home Improvement. You can get good wood for almost half the price! Anyways, here is the coop. It stands 6' 6" tall at the peak from outside. 8 feet long and 6 feet wide. I built the frame with 4x4 corner posts and 2x4 wall studs. The floor is raised off the ground about 8 inches in the front and 12 in the rear. (unlevel ground...) This also gives the chickens a cool place to rest in the afternoons. The floor joists are 2x6 outer beams and 2x4 joists underneath. It is covered with 1x4 boards. The outside is 4x8 sheets of beadboard primed and painted with a latex exterior paint (Valspar from Lowes as well. mistint paint reduced ...) Trimmed out in 1x4 boards to hide the corners and give it a more finished look. Total cost for this coop to date is 75.00.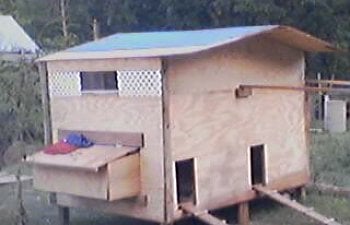 Coop was built to this level in one afternoon.
The windows are as much for looks as for function. They are sliding plexiglass sheets 2 feet by 18 inches. They sit behind the lattice and slide to the center from each side to open the inside to ventilation and fresh air. The opposing side has the same set up. (cross ventiliation). These slide shut to completely close the windows in times of cold weather.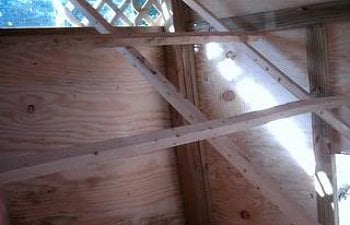 The frame is not extravagent by any means. Just 2x4 construction to hold the 4x8 panels in place.
I used no nails in this construction, only screws. They hold better and stay tight longer. (No working out over time)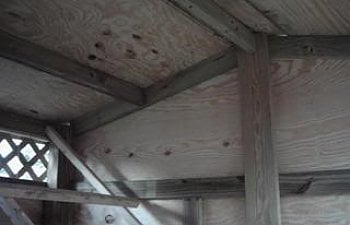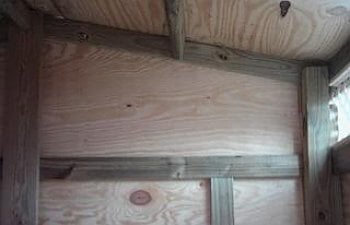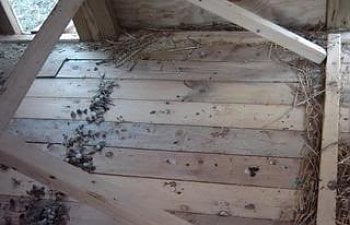 As you can see, the floor is strong, and tight. The nesting box was divided into 4 different "rooms" that have become quite the busy area now. These "rooms" give the girls their privacy, as well as easy access to the best tasting eggs! lol
As for plans, I went from what I saw inside my head, so plans are being drawn up "after the fact" for anyone interested in this design. It's simple yet sturdy. I tried to include enough photos for reference in construction. I do not have any early construction photos, due to a computer problem that deleted some of my files (including s lot of picture files.) But I will put up what I have.
Here is the almost finished coop and yard.
The yard is 8 foot 6 inches wide and 50 feet long. Completely enclosed with numerous roosting spots for those noisy days when they seem to have crowing contests!! The only things left to do here are minor cosmetic things and to paper the roof for longevity. I may add 2 more roosting beams inside the coop later, but for now there seems to be plenty of room! If there are any ideas or suggestions please feel free to let me know!
A good investment For my area (Central North Carolina) is Snake Away. A deterrent that smells very similiar to moth balls that I placed all around the outer circumference of the yard and coop. This keeps the slithery demons from getting more eggs than I do! Side note though....my neighbor seem to be finding more snakes near his pens now......Coincidence??? I have given him some Snake Away now for his coops...(ok, I felt bad. lol)