My flock page
(AKA The Important Stuff)
:
Pipd's Peeps!
About me:
See this thread
.
A couple things that have changed since then:
I graduated with my B.S. in Ecology in December 2018. Some departments got cut not long before then so I didn't end up with the German minor.
Still working on self-sustainability, or, well, more accurately, working toward less reliance on processed foods. The garden hasn't been providing very well due to unfavorable conditions, so we moved to potted vegetable plants instead this year (2019). I have made an effort to cut out any source of commercial eggs and chicken from my diet and do a lot more cooking / baking now. We've been getting locally raised chicken for a few years, but I don't feel as if that's enough. We are now taking extra cockerels from hatches to butcher yearly starting in the fall of 2017. I'm hoping to have a meat bird tractor built next year (2020) to start raising a small batch of broilers every year as well.
COVID-19 delayed... basically everything I wanted to do this year (2020).

Guess we're holding out for another year.
I started making egg soap mid-2021 and haven't used commercial soap since.
Check out my flock thread here
.
My NEW pages about my birds:
The Dorkings
...Yeah, it's a start.

OLD Pages about my Birds (No longer updated!):
The Reds - The Banties - Merlin and the Wyandottes - Freema - The Barred Rocks
The Easter-Eggers - The Fab Five! - Te Heihei - The Littles
Informative articles I've written:
Chicken First Aid Kits
-
The Question of Supplemental Heat
-
The Essential Quarantine
Better Brooder Heaters
-
Chick Sexing Methods Experiment
-

Chicken Identification Guide
The Humble Sexlink Chicken
-

Wintertime Preparation Checklist
100 Pictures of my Flock
- My 100 themed picture project for 2016.
R
est well, my beloved Frou-Frou
♥ My Frou-Frou ♥


Quick Reference Breeds of my Flock:
Hens:
2 Cochins (Blue and Splash), 15 Cochin bantams (3 silkied Red, 1 silkied Partridge, 4 smooth Mottled, 4 silkied Black, 2 silkied Blue), 6 Dorkings (1 Dark Gray, 4 Silver Gray, and 1 Red), 5 Easter-eggers, 3 Marans (Black Birchen, Black, and Wheaten), 2 Old English Game bantam (1 Fawn Silver Duckwing and 1 Silver Duckwing), 2 Orpingtons (Blue), 3 Plymouth Rocks (1 Partridge, 2 Barred bantams), 3 Silkie mixes (1 Silkie x Easter-egger and 2 Silkie x Cochin bantam), and 1 each of the following: Ancona, Cream Legbar, Exchequer Leghorn, Silver Lakenvelder, Paint Silkie. TOTAL: 45
Roosters:
4 Cochin bantams (1 silkied Red and 3 silkied Black), 6 Old English Game bantam (3 Fawn Silver Duckwing and 3 Khaki Silver Duckwing), and 2 Silkies (Paint and White). TOTAL: 12
Pullets:
6 Cochin bantams (2 silkied Black, 3 silkied Blue, 1 Chocolate), 1 naked neck bantam. TOTAL: 7
Cockerels:
5 Cochin bantams (3 silkied Blue, 1 silkied Black, 1 Chocolate).
Ducks:
1 Butterscotch Call
Previously Owned Breeds / Varieties:
Amberlink cross, Ameraucana (Blue), Australorp (Black), Bielefelder, Brahma (Light), Campine (Golden), Cochin bantam (smooth Black, silkied White), Egyptian Fayoumi, Leghorn (Light Brown), Marans (Splash, Black Copper, 'golden' Black Copper), Orpington (Chocolate Mottled, Crele, Lavender), production Rhode Island Red, Red Sexlink, Sebright (Gold and Silver), Silkie (Black and Porcelain), Sussex (Speckled), Swedish Flower Hen, Welsummer, Wyandotte (Gold Laced), and several mixed breed chickens
Loved and lost since 2005:
Cub, Chickie, Maddie, Ducki, Smokey, Aspen, Baby, Toasty, Toes, Twisty, Pace,
Olive, Sienna, Ethel, Lucy, Pen, Dot, Rexy, Hawk, Blizzard, Mocha, Tyto, Jubula,
Sunburst, DQ, Flicker, Corella, Martha, Amy, Rose, Betty, Diana, Natalie, Cricket,
Moose, Thomas, Pogonip, Vespa, Marama, Po, Kit, Louise, Georgette, Violet, Sora,
Emmy, Donnie, Gus, Ani, Cordelia, Mabel, Skua, Izzy, Debra Jo, Tilde, Frannie,
Poppy, Trudi, Tiwhiri, Indigo, Iddy Biddy, Josephine, Lady, Echo, Scooter, Mako,
Malcolm, Darwin, Benjamin, Havok, Bumblebee, Nadine, Ihi, Maggie, Margaret
Altair, Raven, Sybil, Hank, Troll, Diesel, Cressida, Armada, Murphy, Gluttony, Myrtle
and my beloved girls, Frou-Frou, Elda, Freema, Rooska, and Dandelion 💔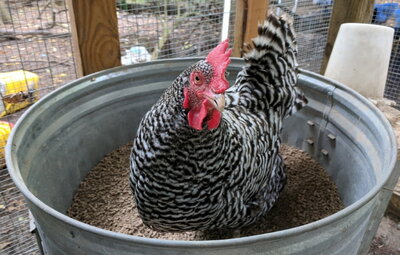 And Umru, Vander, Stewpid, Rigby, Ramsay, Lucky, Tygo, Theodore, Charon, Puck, Titan, Oberon, Dante, Toliman, Jasper, and Rufus, who all went to freezer camp, and Omelet, Hika Ma, Buzz, Axel, Russell, Dawson, Rayburn, and Bruner, who were rehomed, and Scramble, Coffee, Tori, Tyson, Otus, Leo, Castor, and Pollux, who I took care of all their lives, but they were big meanies.
Colors I like to use for headers in articles (since I keep forgetting them):
a45e19

800000
​