[FONT=comic sans ms,sand]
Pallet Coop II
[/FONT]
This is a single coop that we are building for the Marans. We started with a 4 x 8 pallet on the bottom and covered it with another 4x8 pallet. OSB was then put on the top of the pallet, sealed with paint and vinyl asphalt tiles glued down.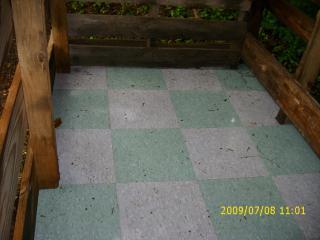 The back is made out of a 4x8 pallet and both sides are 4xalmost4 pallets. We attach them together using 3" screws and attach to the floor by toe-nailing with 3" nails.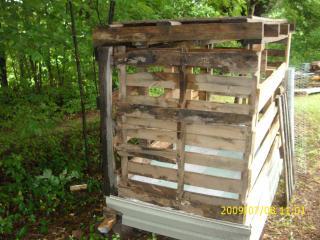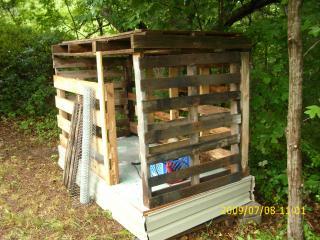 The front is a 3x5'6" side of a shipping crate. This leaves an opening of 2'6" for the door on the front. We have a side of a shipping crate that with a little additional work will make a great door for the coop (it is leaning against the front in the picture).
We will wrap the whole coop in the 48" chicken wire (purchased for $15, partial roll) and re-enforce the top one foot of the coop with 1/2 hardware cloth. You can see the siding already covering the bottom portion of the coop, it will go up halfway on all sides (given to me from a construction site).
The roof was then put on, it is a 4x8 pallet with a piece of OSB attached to it. We will cover it with a recycled billboard sign material (tarp). We added a piece of wood (4"x4"x2") to each side on the front top to make the roof slope to the rear of the coop.
Everything used is recycled materials. The only purchases were:
partial roll of 48" chicken wire $15
Screws 3" $2.85
Nails 3" $3.15
1/2"x1/2"x25' Hardware Cloth $15
We will update the page as we finish the project for the Marans!
Here are some updated pictures of the Maran coop that has welsummers in it at the moment...HeHe!! These pictures show the siding we used over the chicken wire and the attached yard.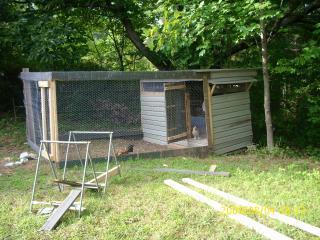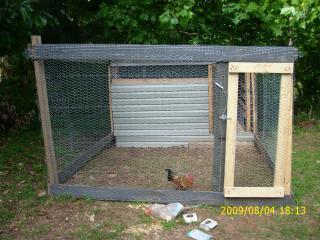 ​