12.31.11 Just wanted to update at the end of the year. Great year for my Seramas! All are taking a "short" break right now and I hope to have eggs available soon. Have a few chicks growing out and a few more due soon. So will have some chicks for sale too soon. Thank you everyone who bought from me this year.
11.5.11 BRRRR, winter showing an early face this past week. Makes me want to be totally finished with my regrouping and recooping of birds. Have to get most of them inside soon.
10.23.11 Received more new hens this past week. Will be glad when everyone is out of quarantine and chicks are sold and I can regroup everyone for winter (which is fast approaching)!
10.1.11 Wow, loving the fall weather. I hatched about 50 chicks over the past 3 months. Lots of colors, bunches of them are frizzled.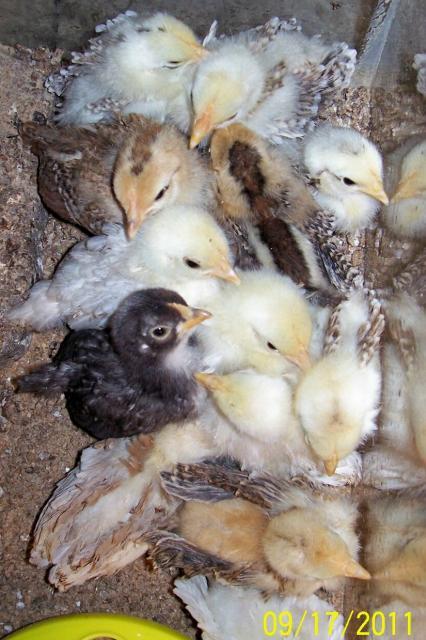 7.31.11 I now have 2 new frizzled pullets and 4 new smooth hens. Also two mature frizzled chocolate carrier boys that were orginally from Juliette ( pixiechick). I am excited about regrouping everyone as soon as these birds are done with quarantine.
https://www.backyardchickens.com/forum/uploads/71354_frizzle_flock.jpg
A few of the new girls below
https://www.backyardchickens.com/forum/uploads/71354_serama_ladies.jpg
7.1.11 I have continued to obtain young breeding Serama from several different breeders across the US. I am getting them all acclimated to the Ozarks and me, making sure they are as healthy as can be and pairing them up as logically as I can.
UPDATE 5/28/11
Butterscotch appears to have very low fertility if any. Most eggs have no development at all, a few developed slightly.
I know Benny is fertile as he and Tutti ( serama/araucana) have produced several nice little chicks in shades of blue. I have one that is several weeks old with peacomb and dark blue/gray coloring like Mom. SEe my other page for pix.
I have a new white pair of Serama that are getting settled in, hopefully I will start getting some eggs from them soon.
Also have adopted out several of my younger birds, to concentrate on the breeding pairs and hatching/raising some of their chicks.
4/5/11 Have acquired several young nice Serama from three different sources, awaiting them to grow out a bit to see who is staying and who will be breeding.
*****************
I am just starting out with bantams in Nov 2010. I have one pair of Seramas that were hatched Sept 2010. EArly December 2010 I received a nice Serama pullet from Mandy at thecochincoop in Ohio. Also have an extremely friendly young pair hatched early Nov 2010 from Mandy.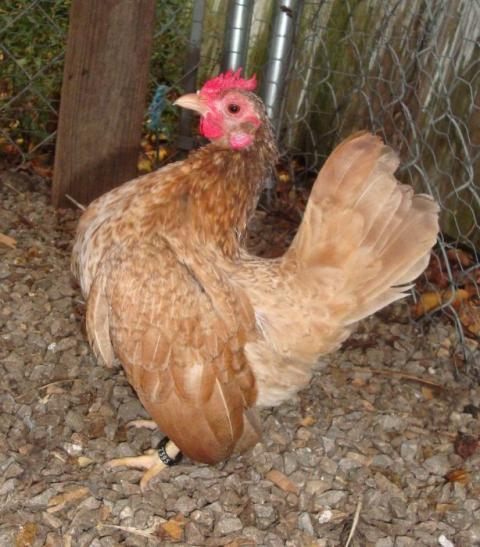 Butterscotch (Picture by the Cochin coop)​
THis is Benny, Barred Serama Cockerel ( from Cathy Hill) Oct 2011 Benny has moved in with BOBBYC in OKLA!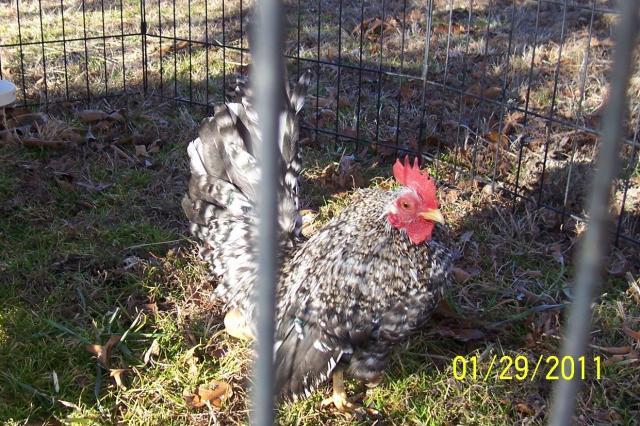 I live about 35 miles west of Springfield Mo on 10 acres. Am joining BYC for more information and because I have enjoyed reading especially the Serama thread. 7.1.11 I have decided to concentrate entirely on Serama.
Ruth