Silkie/Polish Crested Flock

We introduced the Polish Crested Rooster to the white Silkie flock,
a few weeks after he lost his mate in late summer 2010 when he was 3 years old.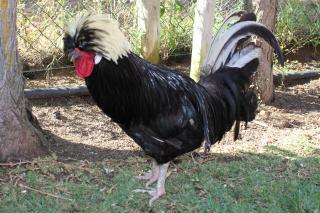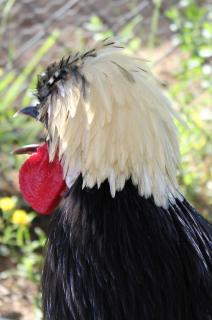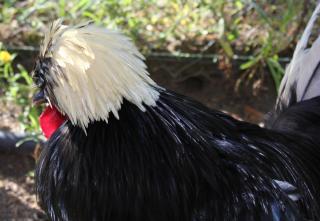 Polish Crested Rooster 31st May 2011 - 4 years old - Daddy to 7 chicks
We had already lost our main white Silkie rooster, very sad when he got sick and died.
We didn't know how well it would turn out.......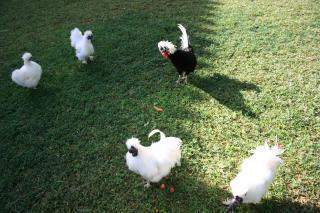 He is now the Leader of the Flock.
4 White Silkie Hens & 5 White Silkie Roosters.
He soon rustled them into shape!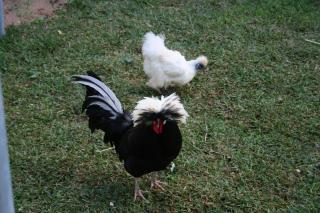 The Big Chief Rooster with his (and our) favourite girl. She's so cute!
We thought he was just walking out with her and dancing for her!
He has not had any chicks before, so we just assumed he was shootin' blanks.....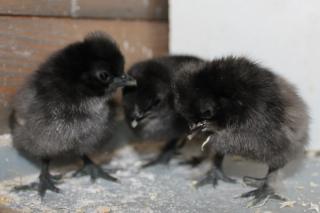 Their 3 Silkie/Polish Crested Cross Black Chicks - 7 March 2011
Sadly one of the chicks died but we still have 2 lovely chicks.April 2011.
14 April 2011 - sadly one of the whitle silkie roosters died, he had'nt been well before and we separated him but he got better.
He'd been back with the flock for a few weeks and suddenly died.
4 White Silkie Hens & 3 White Silkie Roosters, 1 Black Polish Crested Rooster, 2 black Silkie/Polish Crested cockerels, 5 black Silkie/Polish Crested Chicks and 3 white Silkie chicks - 31 May 2011.
​