Front Rollout Nest box Design
​
This page contains prints to show you how to make your own nesting boxes. I have the same problem many others have in that my nest boxes need to be against the wall but I don't want them hanging outside. Egg eating had also became an issue as well with my birds and I tried everything I can find to try to help, with it has but I've still found an egg every once in a while that has been eaten (golf balls helped alot). I looked at alot of places trying to find a front rollout nest box (even BYC) and I couldn't really find anything but others that wanted a front rollout nest box as well! So I sat down and designed my own, it helps that I'm and designer and have CAD software at home too.
​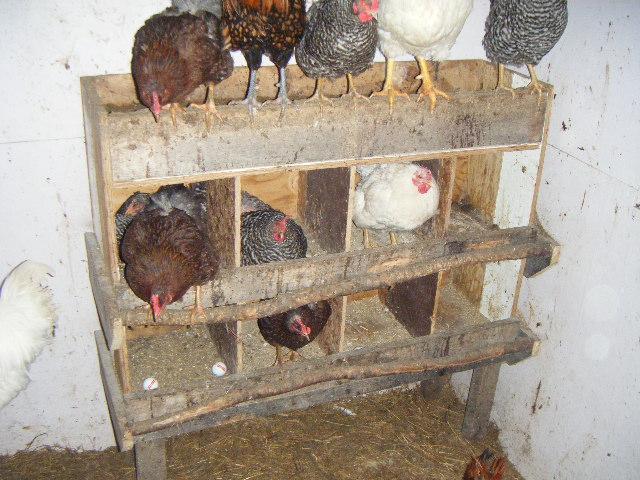 Old Nest Box (they love it but it's got to go!)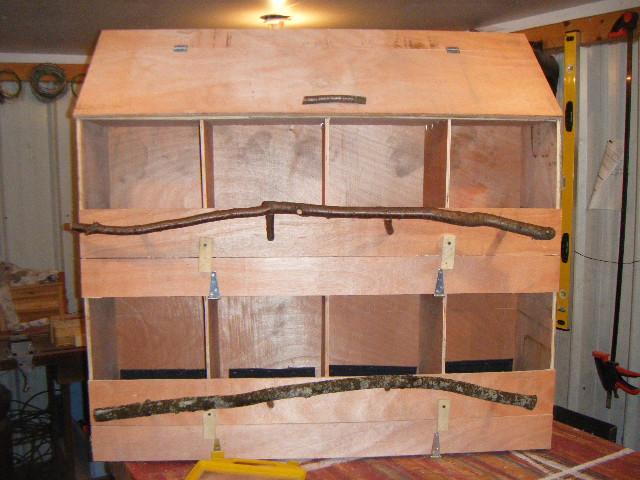 The new nest box (no more broken eggs)
​
I designed the nest boxes so that the "business area" of the nest boxes can be removed easily for cleaning or replacement. To keep birds off of the top I added a slop to the top which doubles as a storage area with a hinged lid. I designed to use 1/2" thick plywood but the mathmaticly savvy can change whatever they need.
Below are some shots of the different features of the nest box.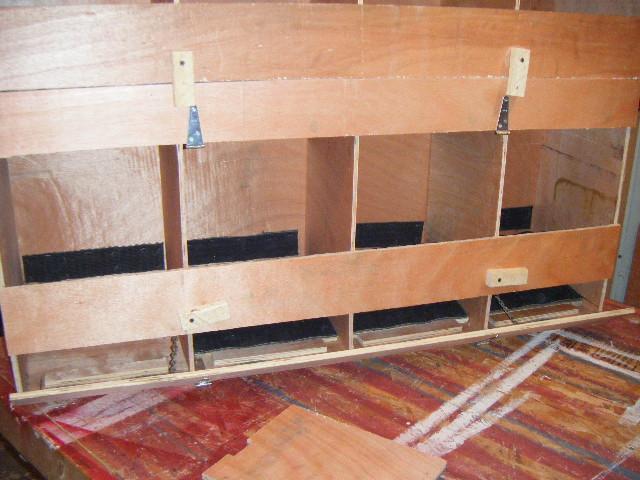 2 flip down doors allow access to the eggs, and each are locked by 2 toggles.
​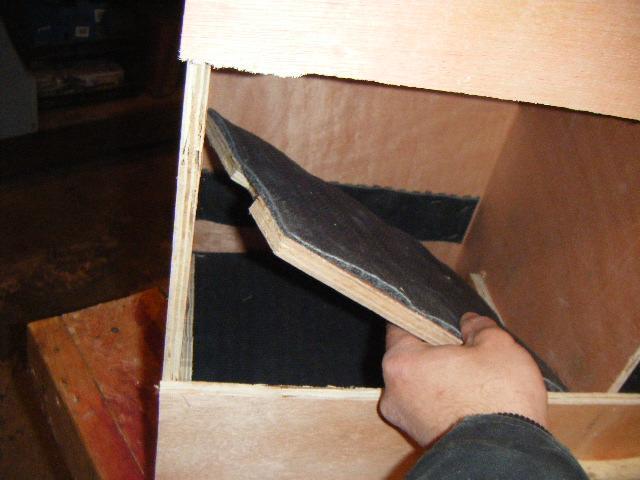 The nest bottom ramps are both removable for cleaning
​
Ramps shown removed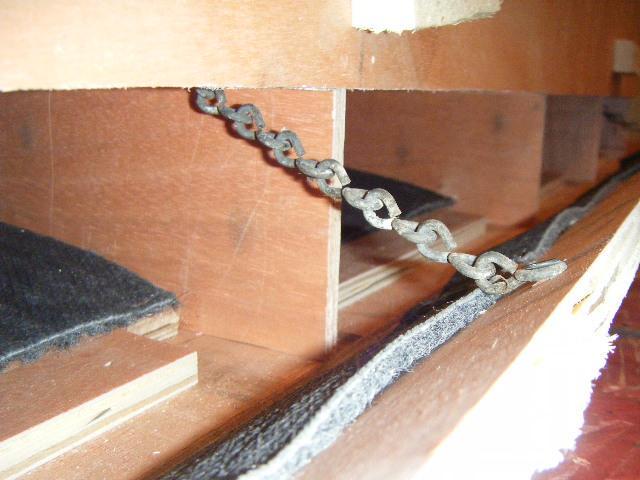 Chains attached to the trap doors keep the door up to keep any "wild" eggs in the nest
​
The Specs:
8 box (2 rows of 4)
12" wide x 12" deep x ~12" high
Materials required: Plywood, Nails / glue, hinges, 2' X 8' rubber matting or chicken proof soft material, staples
Circular saw / table saw, pencil, tape measure, square or level, Drill w/ drill bits, hammer or air nailer, staplerTools required:
The link below has prints for every part of the nest boxes except the hinges (Just pick up some at your local hardware store if you don't have any). I also created an assembly instruction sheet with 8 simple steps to put everything together.
I can't take all of the credit however since I did get alot of inspiration from Opa's "New rollout nest design Picture heavy-edited 1/21". Thanks Opa!!
For now I can only link to the print PDFs but I'm looking into getting them added to this page.
Prints: http://splinedesignstudios.yolasite.com/resources/ROLL AWAY NEST print pack.pdf
Assembly instructions: http://splinedesignstudios.yolasite.com/resources/CABINET INSTRUCTIONS.pdf
My prints or assembly instructions do not show the "soft" material or the roosts because you can make them from whatever you find, I went cheap.
For the "soft" material I used rug runner carpet with a black rubber backing ($.99 a linear foot for 8')
For the roosts I made them from sticks found in the woods, see link to make your own: https://www.backyardchickens.com/web/viewblog.php?id=81983-rustic-stick-roosts
Finally have the new nest box installed!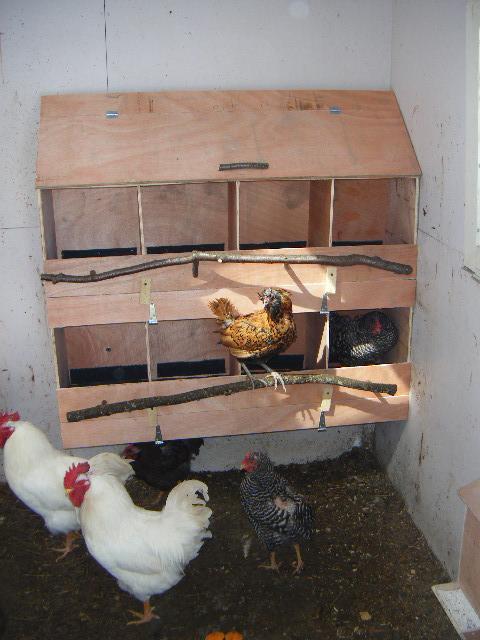 Within 20 minutes of installing it this is what I saw!!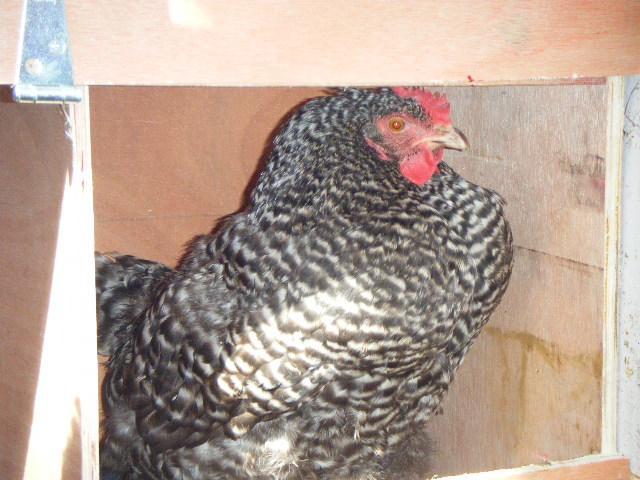 A girl in action!!! this was the second bird I saw lay a egg after install. It was so cool, I've never seen them lay an egg bofore! She did it like a pro though!!


You might be able to see a slight wisp of steam coming off the back egg.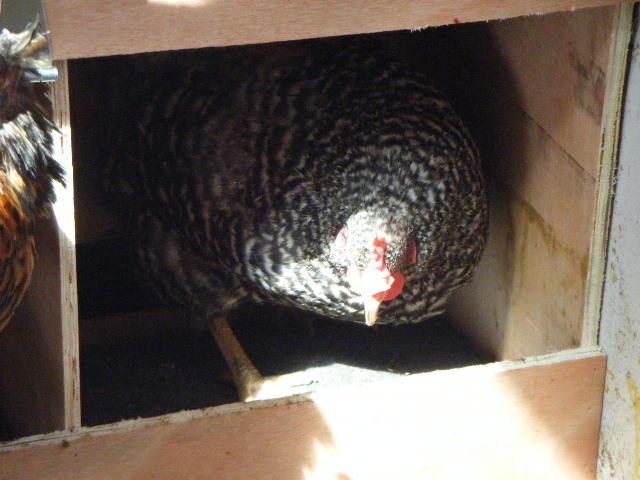 Even the hens are surprized when they can't find the egg, that was funny and kind of sad when she kept looking for it.
Anyways, if you have any questions please let me know how I can help!
Spudd dud
****UPDATE****
It's now been about 2 months and I have a few observations:
- I was having horrible egg eating problems, but since I installed the box I haven't found one egg eaten, (and I'm getting record egg amounts from the birds, up to 11 a day).
- I will be adding a 1/2" hole in the bottom of the lower ramp, to remove for cleaning.
- Insead of making the chains of the egg doors fixed onto the door, I'm going to install cup hooks so the doors can drop completely down when I need to clean.
- I was slightly concerned that the eggs might break each other if I they where in the same nest box but I've had up to 5 in one box and they where all OK>
The only Issue I still have is the birds like to sleep in the boxes, but I'll be moving the roosts up to fix that.