The town I currently live in does not really allow chickens as pets, they are currently in the works to change that law so for now we have to keep everything disguised, we decided to build a stealth coop. Our yard is on a slight incline so someone from our backyard fence (if tall enough) can see into the portion of the yard that we would be placing the coop, so our mission was to make it discreet and make it look like a large dog house or childs play house from the street. We also decided to use leftover materials from previous renovations to our house & garage. The original size was 4x4 but because we have limited space on the side the coop will be on we made it 3.5x4 and 4 feet tall. I would love to post a scan of the drawings I made to build the coop but since I can't print out the pictures in hubby's head...and since he didn't use any of the drawings I made, we have to just stick with the pictures. We started by making a pallet like foundation for the coop using pressure treated 2x4's and some 5/4x6 pieces for the flooring, added some 2x4 studs to put up walls.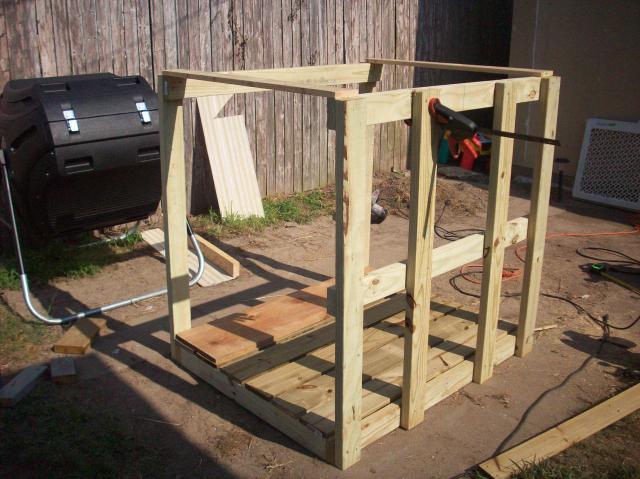 Not sure what happened but the pics wont line up LoL!
As we started to put up the walls we decided to have a quarter wall that slid up and down using a piece of pvc pipe with a groove cut into it using hubbys table saw. This quarter wall will slide up into the coop for easy egg removal and to push out any debris inside when it is time to clean it out. We used Hardi Panels from Lowes, leftovers from our garage renovation. They paint very well, most of it in just one coat.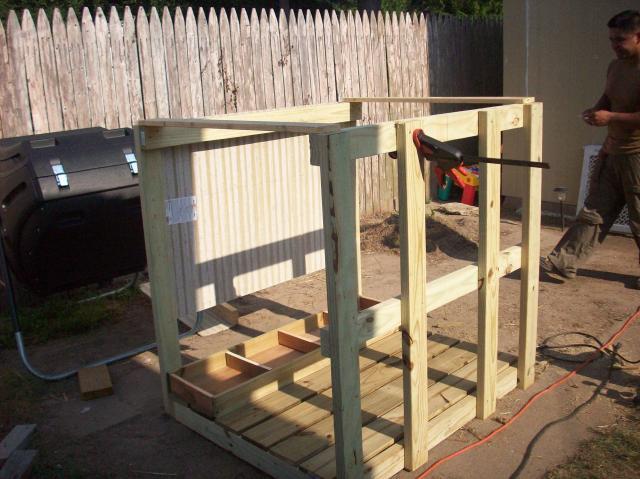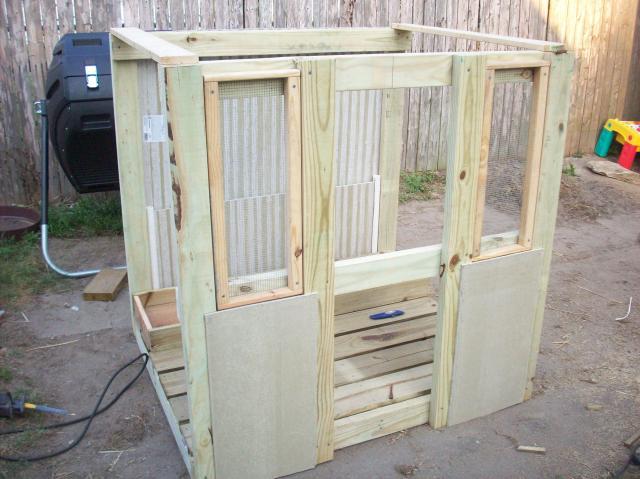 Eventually all the walls are up and I painted the inside all white. This worked well when I put solar lights inside because it looked really bright and since it is semi gloss it is so easy to clean, just hose it out and sometimes mop out with water with a bit of bleach in it. The pallet style floor helps it dry out really fast and we use a plastic pet crate slide out in the bottom with hay on it for litter. Here it is mostly painted, a few touch ups still needed. Everything inside of the coop is painted with semi gloss paint and is removable for easy clean up. It is a tractor style coop so taking out the nest box & removing the roof also makes it much lighter to move around the yard.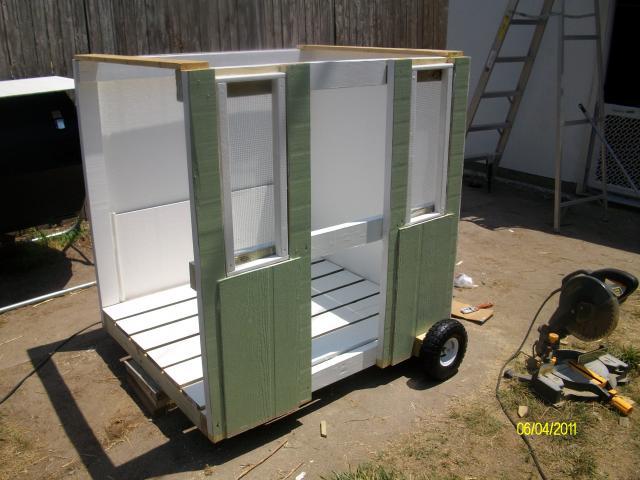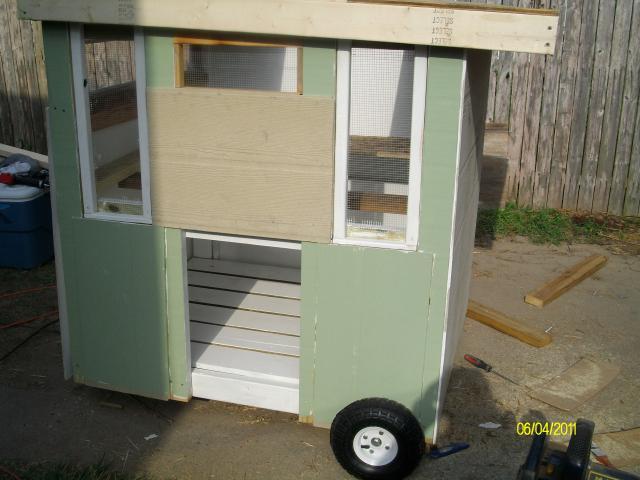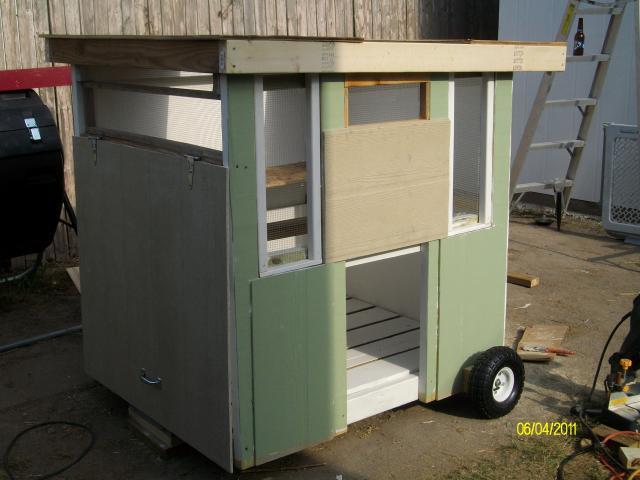 I ended up painting that extra panel the same as the others I loved that sage color! Infact I like it so much that hubby's garage and our house will be painted that color when my kids are back in school for the fall.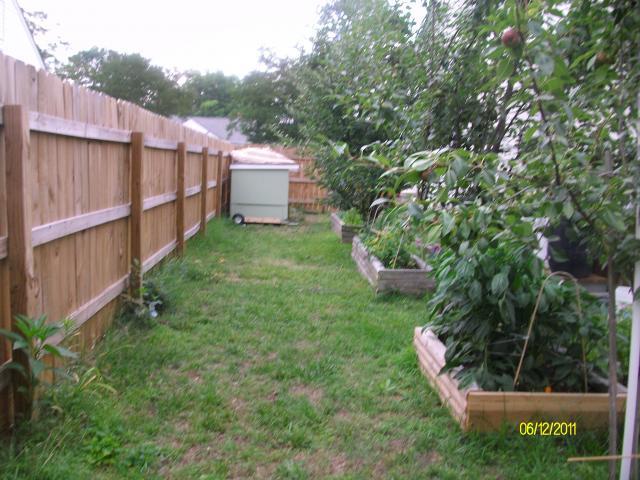 We used a patio umbrella to give them shade until the shade cloth I ordered arrives. You can see the small "trailer hitch" we attached, it is a piece of 3/4 galvanized pipe that is attached tto the middle floor joist and runs thru the end one. We have a larger attachment so it is easy to lift and move to its next location. We are also adding some soffet vents (extras from home renovations) to the back of the coop for extra air flow. The run is 4 feet high, 4 feet wide and 8 feet long. We are putting the roost in the coop this week, we got very sunburned and tired trying to place everything so we thought that can wait a day or two. The last pic is the view from way back in our yard, a strange looking "dog/kids play house" but it'll work for us.