I have never owned chickens before so this is my first attempt at making a coop. I did a ton of research before I started. Most of it on BYC. This is an amazing resource.
There were a few important criteria I had to deal with before I got started.​
I live in New Jersey. Home of the highest property taxes in the country. My monthly tax bill for my 1.25 acres is about what many in the country pay for a mortgage (maybe a little more), and the town would love for me to pay more. Anything on a permanent foundation, or, anything 100 sq. ft or larger is taxed. Therefore, my coop will be 8 x 12 (96 sqft) with no footings.

​

I will more than likely be tending to the chickens before work. I would like to minimize actually going in to the chicken living quarters because I will be dressed for work. (this may be a little optimistic)

​

Electricity for brooder lights and auto coop doors.

​

Make cleaning as easy as possible.

​

Located close to the compost bin.

​
I plan on using the deep litter method with poop doors. I would love not to have to walk into the coop each day to clean them off. I am also going to incorporate a chicken moat into the plan to take care of my battle with deer and groundhogs in my garden. After many iterations I came up with this.
Site Plan: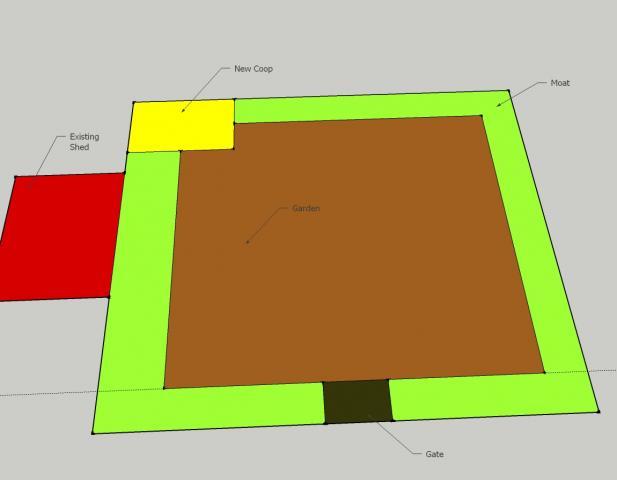 I have an existing shed (in red) and the garden is basically the same size as the whold green square. The moat will be 6 feet wide next to the shed and four feet wide the rest of the way around. The fence for the moat will be just over six feet high with wire over the top.
Front of coop: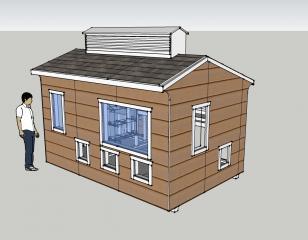 The small openings on the bottom of the front of the coop were for a pop door (on left) and to wired openings for ventilation. On the build I decided to eliminate the two vent openings.
Back of coop:
The large opening on the back is for a clean out door. The smaller opening above it is for dropping boards that can be pulled out like drawers for cleaning, allowing me to minimize my time in the coop. I did not detail any of the doors in the plan.

Inside of coop:
​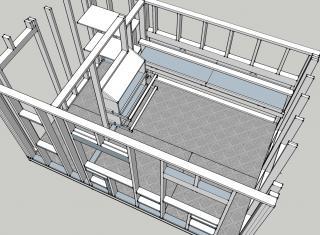 Just under a 4 x 8 storage area when you walk in. Leaves an 8 x 8 living area for the chickens. I plan on having 12 hens and a roo so there will be plenty of room. Nest boxes have openings in the back to gather eggs without entering the chicken area. Dropping boards under the roost can be pulled out fro cleaning from the outside.
Click here for the Construction Process.
​