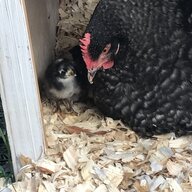 Gender:

Female

Birthday:

September 27

Location:

Occupation:

Playing around on BYC
9SpiceyChickens
Crowing, Female, from In the coop, Northern CA
Bye Bye Big Momma! May 31, 2019
9SpiceyChickens was last seen:

Jun 15, 2019 at 6:21 PM
Loading...

Loading...

About

Gender:

Female

Birthday:

September 27

Location:

Occupation:

Playing around on BYC

Real Name:

Kate

What's your main reason for joining our community?:

I want to learn about the *amazing* creatures...... chickenettes!!!!

R.I.P Nipper, the sweetest, cutes, best hen ever. Jumbo sized eggs for a splash silkie...

R.I.P Emerald, a parakeet I didn't know well, but was sad to see go...

R.I.P Skittles, another parakeet, so sweet, so beautiful...

R.I.P Misty, the last parakeet, with us the longest, was the sweetest, caused the most pain...

R.I.P Salt n' pepper, a cute old Barred Rock, lived out 10 years, small brown eggs...

R.I.P Vegas, the best guard hen ever, sweet to people, warned us about Nipper...

R.I.P Rosebelle, a nice calico, so sweet...

R.I.P Rosey, you little devil fish, I miss you...

R.I.P Joe, missing you...

R.I.P all my other pets, you hold a special place in my heart...

See you later, Rocky, you will have beautiful chicks, you little liar, don't be mean to Sephora...

There is no such thing as a chicken... Only chooks, fluffybutts, and chickenettes! (Pronounced chic-on-eat-as.)

Interact

Signature

"Light travels faster than sound. This is why some people appear bright until you hear them speak."
– Alan Dundes

Loading...

Loading...

Loading...