Yesterday we got the chicks moved into the big girl coop/run and last night we put the Big Girls into the new coop. That was quite an adventure!

If acceptance of the nest box in the new coop is any indication of acceptance of the new coop as their new home, my girls have accepted it well. We went outside to check the nest box in the new coop and there were 5 eggs in it! 5 hens + 5 eggs = success in our eyes. NOW, all we have to do is wait until dusk tonight to see if they go to the new coop on their own. That will be the true indicator of a successful move.















My 6 hens have been happily free-ranged in my yard since September without incident.
Their coop and run is super secure/safe, but we haven't shut the pop-door or the door to the run in many months.
Here is a picture of their coop and run.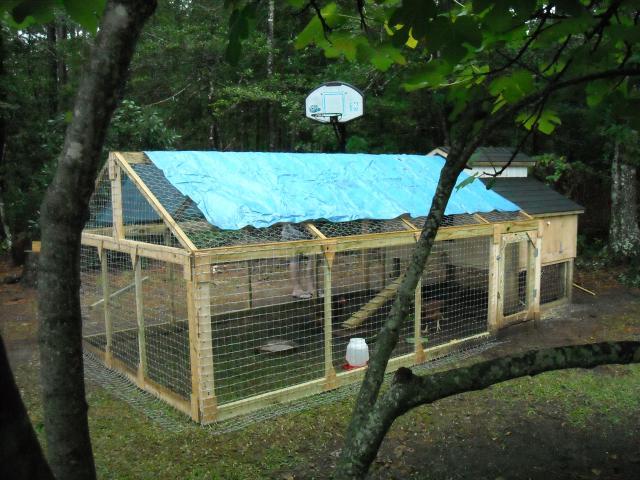 They come and go as they please and HATE to be shut in the run.
Two days ago the chicks I got for Mother's Day were successfully moved outdoors. Their coop hasn't got a door installed yet and the run is only made from plastic garden fence on green garden poles.
Here is the new coop and run....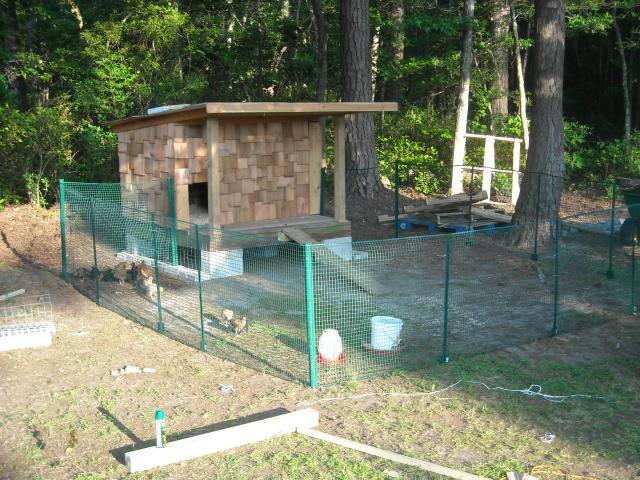 We figured they would be safe enough for a few days until we figured out which kind of (better) run to build.
We have seen nothing more vicious than a squirrel in our neighborhood in the 4.5 years we have lived here (do you see where this is going?)
After working all day to finish the new coop we forgot to gather eggs from the other coop until nearly midnight. When we got about 30 feet from the coop a raccoon dashed across the yard and up the tree directly behind the secure coop. Needless to say, we spent the majority of the night outside guarding our flock.
Our question is this.... Would it be possible to successfully transition the grown-up hens into the new coop? We are going to put a new door on it tomorrow and we would take the run down altogether. We would put the 24 chicks in their coop and run since they don't know anything about free-ranging and won't be upset by being penned up all the time.
Any advice on this transition will be graciously accepted. THANKS
UPDATE-- The coop/run has been cleaned out thoroughly (in 100 degree heat) and the babies have been moved. DH and SIL are in the process of cutting a piece of plywood to enclose the underside of the coop around the back and sides. Decided this was prudent since someone mentioned raccoons reaching through the wire and ...well, you know. It will get a full roof--instead of a tarp--in a few days.
The 6 girls were very curious of the new coop, even when I was putting the pine shavings inside they were inside it checking it out. Tried containing them in the little enclosure without success. They just hopped over it like it wasn't there, so we took half of it down. Now we have to do is to be outside at dusk to make sure they go inside the coop. Thankfully we are off from work tonight.
I feel so much better with everyone in their new houses. Thanks to everyone who gave input on this situation. Now, cross your fingers that it works out.
--Michelle
--Michelle
Last edited: