I am hoping someone can identify my birds! Originally, I was trying to figure out why my birds are "loosing" feathers!! I can't tell if they are plucking them out themselves, or if they are doing it to each other. I lost 2 yesterday and can't figure out why. Poos look good, eating and drinking fine. I add ACV to their water each morning, and give them Activa yogurt mixed with some of their crumbles once a day, although, I just started doing this yesterday. They have been on Dumor chick starter grower 20%. I just bought a 50 lb bag on Sunday and I'd say I'll have to buy another bag before Friday. I only mention this because I had 8 birds before. Now I have 60 and everything seems to be bigger. I'm not sure how much meat birds, Cornish X's, OR 60 white rocks consume per week. I opened up their run earlier than I normally would have to see if they needed more space, but the feather issue lives on.
On another thread someone mentioned that I post pictures of them here and see if anyone knew exactly what they were. My white rocks, or something else?
My birds are 4 weeks in these pictures. I just took them this morning.
Dust bathing this morning:
Shaking it's feathers so it's a good view of feather loss: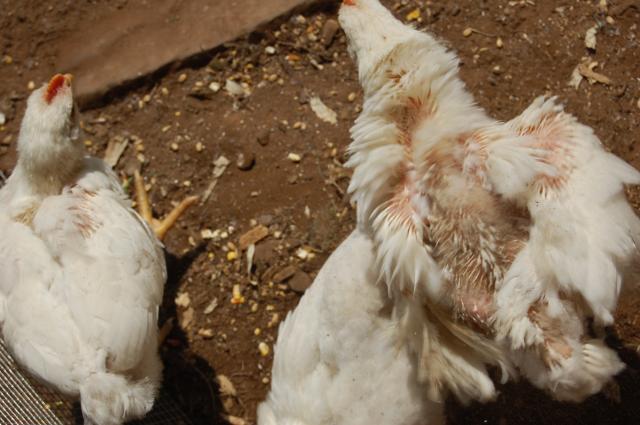 feather loss ... similar to meat birds?:
another angle:
Here's the last one .. I put it in so you could maybe see their size relative to the concrete block and the waterers.:
Thank you for any thoughts here!!