Rest in Peace 1980-2020
Premium Feather Member
8 Years
Jun 28, 2011
39,156
26,751
1,302
Amy, known to BYC members as
WestKnollAmy
, has been a member of our community since April 2008. Amy is well known to members frequenting our
Other BackYard Poultry
forums, especially for her beautiful flock of peafowl!
1. Tell us a bit more about yourself.
My life has always been wrapped up in animals. From a young girl of 10 years old being fussed at by my father for teaching his hunting dogs tricks like sit, shake and beg to raising box turtles in my parents yard. They despaired me finding a good career because of my love for animals. I was very much into horses back then and met my husband horseback riding. We married in 1980. He has a love of all animals, too. We both knew we wanted a farm but that takes money to build so while I never got to finish my degree in Animal Husbandry, I was able to get a job in a veterinarian clinic, where I worked my way from the bottom up to head tech and office manager. We saw a lot of exotic birds in clinic but I did not think I ever wanted any birds. In 1986 after we bought this farm we raised and exhibited AQHA horses and AKC Boston Terriers, which we showed to several Championships. After being married 14 years we had our first and only child. She wanted to breed and raise Guinea Pigs when she was 9 so we were soon going to Cavy shows.
I have exhibited some of my bantam Cochins and enjoy the friendships I have gained through poultry. A lot of those folks I met right here on BYC! They will be life long friendships, too!
I am still very active in animals here on the farm, love my local farming group but we really do not show anything anymore since the daughter moved out a few years ago.

2. Why and when did you start keeping chickens/peafowl?

I really did not get poultry until I had to quit working for the vet after almost 20 years, to care for my ailing mother. It was rather boring here so I was given a small flock of white bantam Cochins and never looked back. I purchased hatchery chicks for a free range laying flock for delectable eatable eggs here on the farm but they were nothing like those precious bantam Cochins. I still raise Cochins to this day.
I was super lucky to inherit a gentleman's breeding program of peafowl back in 2012. I never knew him but I had a reputation in the community and was asked if I would take the 20 plus peafowl and continue his breeding program. I was honored and humbled. I continue to do my best. I had always wanted peacocks but knew it was a dream that would probably always be on a back burner.

3. Which aspect(s) of chicken/peas keeping do you enjoy the most?
While I find the daily watering a real chore, I marvel in the interactions of the poultry. I watch them strut their stuff, squabble over imagined infractions, whisper secrets to each other and go about each day with delight of finding bugs and morsels of free food from the earth. The beauty of each bird and personality they exhibit is fascinating, even to this old lady. My Cochins want to be held and petted, my peafowl just want to show off to me. I value it all!

4. Which members of your flock, past and present, stand out for you and why?
One of my first Australorps showed me and the husband how another breed could be as affectionate and loving as the bantam Cochins. She was a real joy. He would go to the barnyard to just visit her every day. There have been many hundreds of birds over the years and often each summer I would get up to around 750 birds so they are sometimes hard to remember but there are quite a few I have loved overly much. Currently, my favorite is a young peacock I call Hallelujah. He is amazing and glorious. He has personality plus! I try not to keep too many peafowl chicks each year but am glad he was a "keeper".
5. What was the funniest (chicken/pea related) thing(s) that happened to you in your years as chicken owner?
So many things I could tell stories about but one that sticks out as funny is the hilarious way the Silkie hens took on when some baby ducklings they had hatched and raised figured out that the watering pool was a desired place to be. The hens ran back and forth around the pool, squawking and flapping their wings for the babies to get out! Meanwhile, the ducklings were splashing and dipping and swimming with glee. I wish I had been able to video that moment! It was great!

6. Beside chickens/peas, what other pets do you keep?
We are down to one last Guinea Pig, after having around 100 here for many years. We have 2 small house dogs and 4 livestock guardian dogs out on the farm. There are 4 sheep, 8 dairy goats, 6 barn cats, about 40 ducks, around 70 Guineas and a breeding quad of Royal Palm turkeys. They are all pets and enjoy the attention I try to give them every day. And while I would not say they are pets, my husband does love to mess with the meal worms we grow for our poultry to eat. He does talk to them and tells them to eat well and grow fat so our birds will be more healthy!

7. Anything you'd like to add?
I just want to thank BYC for becoming a huge part of my learning more about raising poultry, helping me make an enormous amount of friends and keeping the site family friendly.
Anyone that has a dream needs to work towards that dream and never give up. Research your objectives, make small goals and work to get where you want to go. You may not get there tomorrow but when you are older and wiser, you will find that you were learning everything you needed to know to enjoy what you want to have in life.
Now me and a glass of iced tea are going out to sit on the back porch and watch the chickens, peafowl and Guineas go about their daily business. Who knows... I might get a visit from one or more of them!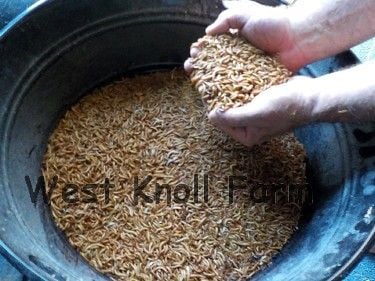 https://www.backyardchickens.com/members/westknollamy.9332/
See here for more about the interview feature and a complete list of member interviews:
https://www.backyardchickens.com/t/905602/introducing-vip-member-interviews/0_30