Apr 21, 2018
2,567
14,797
702
This is Amber. To me, she is soooo big! I swear she is almost as big as my Black Australorps and they are 8 1/2 months old! She isn't as filled out as in fluffy and wide but she is as tall. She is 13 weeks old. She has LONG yellow legs and feet. Variations of reds and rust colored feathers. She has some black V's in her feathers around her neck that have been there since her feathers came in. She has black feathers on her wing feathers underneath and has a black tail. While she has been getting pink/red in the face and comb, it hasn't progressed to really darken or anything. Her comb is still quite small and she doesn't really have any wattles to speak of. She does have long feathers around the base of the tail but they are all big and rounded. So I'm pretty sure she is a pullet. I'm just not sure on specific breed. I got her out of a bin from
Tractor Supply
and I know they go through Hoover's Hatchery. I have looked at their website more times than I can count trying to settle on a specific breed. I'm hoping that maybe someone has experience in raising a chick that looks like this and can help. Not to put a suggestion in anyone's mind but I am leaning towards Red Ranger? If that is indeed the consensus on her breed, I have ZERO experience with meat birds. My main question would be can she be a pet and just for eggs? But I am getting ahead of myself. Here are some pics.
She's the one in the middle. Don't mind Priscilla (Buff Orp) and Elvis (Booted Bantam). I tried to get a pic of her standing so you can see the legs. The pic doesn't do justice as to how long they are. Or maybe it is just me because I've only seen short stubby ones. IDK.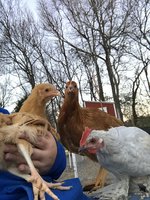 Side profile and wing and tail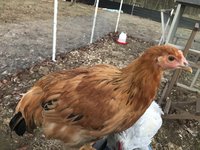 Top back view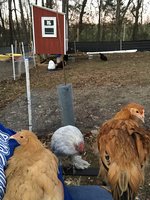 Thx so much for the help.