Rest in Peace 1980-2020
Premium Feather Member
8 Years
Jun 28, 2011
39,154
26,006
1,302
This contest is brought to you by our sponsor
The Magic Zoo

Pick your favorite medium, make something chicken-themed and show us your creativity for a chance to win!
​
​
Use whatever medium you like! Draw, sculpt, burn wood, paper macho, quilting… Create something chicken themed, enter by posting a nice clear pic of your creation here, and stand a chance to win one of three lovely prizes sponsored by The Magic Zoo!​
https://www.themagiczoo.com/animal-jewelry/farm-animal-jewelry/chicken-jewelry.html
The Magic Zoo jewelry is handcrafted by American artist Merry Rosenfield. Besides her extensive line of chicken jewelry, Merry has made over 1800 other animal designs, from armadillos to zebras! Since 1989 her distinctive creations have been collected and worn by fans in over 30 countries.
Some of Merry's designs have appeared on Animal Planet's Emergency Vet Show, in People Magazine and have been displayed in the Albert and Victoria Museum, the world's largest museum of decorative arts and design in London, England.
RULES:
All entries must be submitted as a pic reply to this thread.
Give a brief description of the entry and mediums you use.
Only one entry per member with one photo per entry.
Any form of art - even wearable art - is permitted.
Entry must be your own creation recent or from the past.
No fake editing, photoshopping.
Entries will be judged primarily on originality and creativity.
All BYC Rules apply.
Have fun!

THE PRIZES:

1st Prize: Sterling Silver Chicken earrings and matching pendant
​
These unique sterling silver chicken earrings have been beautifully detailed by the artist. The first prize winner will receive the earrings and the matching sterling silver pendant on a 22" sterling silver chain. Retail value for the sterling silver earrings, the matching pendant and the 22" chain is $173.00.

2nd Prize: Enamel Chicken earrings and matching necklace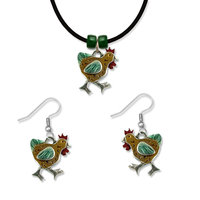 ​
These hand painted enamel chicken earrings capture the playfulness and fun of having backyard chickens! Also included is an enamel chicken necklace on an 18" nylon cord. Retail value for the enamel chicken earring and necklace set is $58.00.
3rd Prize: Pewter Chicken earrings and matching necklace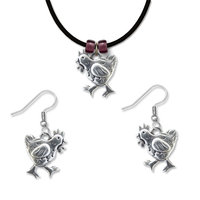 ​
This unique set of poultry earrings includes a delightful pair of fine pewter chicken earrings with a matching pendant on an 18" nylon cord. Retail value for the pewter chicken earring and necklace set is $45.90.