Just under two weeks ago I found a baby sparrow that had fallen from a palm tree in my back yard. I know people say put them back in the nest, but those of you with 30 ft tall palm trees know that just isn't an option. Plus, within a day of rescuing him I noticed he was holding his head down and to one side. I thought maybe this was just a baby bird lack of coordination thing, but it started getting worse to the point he began backwards somersaulting. Kindof funny at first, but then I realized we had a problem and this little guy wasn't going to live if he kept getting worse.
It started out like this: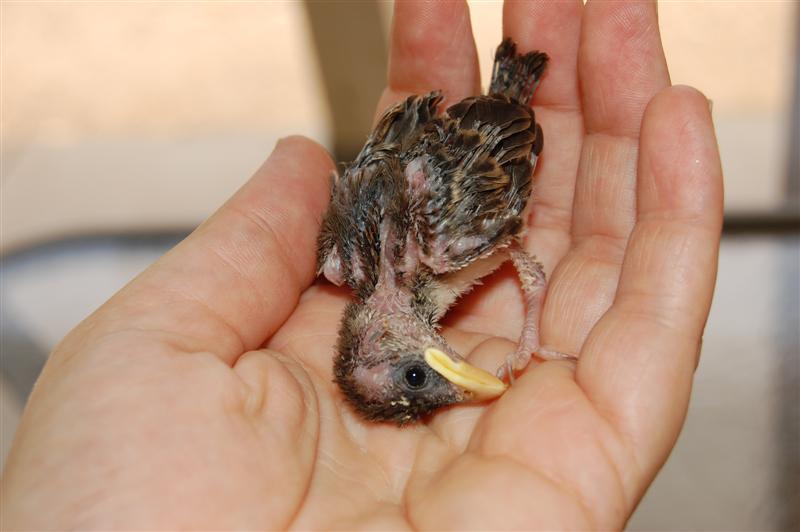 And before long turned to this:
Thanks to this forum I did a bunch of research and started him up on Vitamin E, selenium and vitamin B. It's a little tricky trying to figure out how to dose a bird that weighs half an ounce, but I figured he was going to die if I didn't try so we had nothing to lose. I started him on two drops from a 200UI capsule of vit E twice a day along with a few sprinkles of selenium and a razor blade scrape of a B complex pill.
We started seeing improvements in about 36-48 hours, and as of yesterday (about 9 days of treatment) he hasn't had any unnatural head/neck stuff that I can tell. He also started flying small lengths yesterday, and likes to spend most of his time on people's shoulders playing with freckles, necklines, earlobes and stray hairs.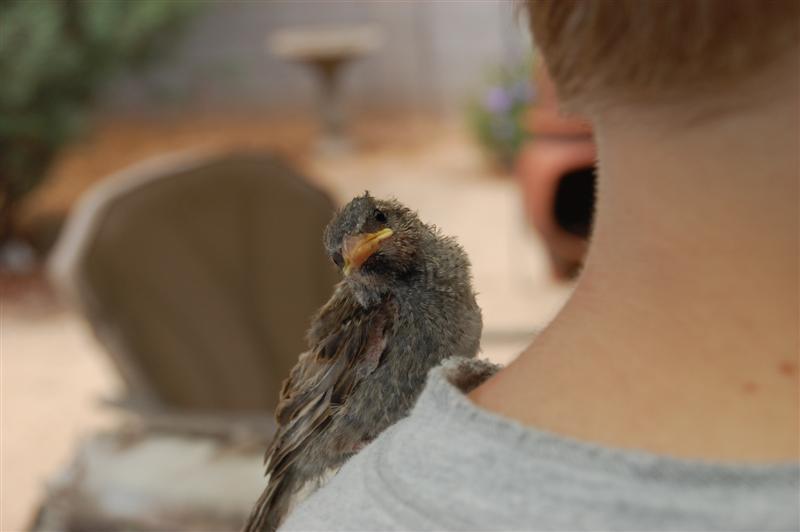 We call him "Tordu" which is french for "crooked". Not sure what the future holds for him as I understand he likely can't successfully re-integrate into the "wild" of urban bird life, at this time our plan is to teach him to forage for food and then put a birdcage on the back porch with food and water.. and leave the door open.

Thanks to nifty for this great site, it helps more than chickens!!
Last edited: