Jan 26, 2017
1,049
1,496
246
I'm a former Marine. At 59 I can tell you I'm definitely not as lean, just as mean and a whole lot slower than these feathered missiles I have in the backyard when I try to catch them. So with a little research I found a DIY chicken catcher made out of a heavy coat hanger - not those flimsy white one, but the old heavy ones. Yeah, we still have about a dozen of those tucked away in the closet holding up antique prom dresses.
I followed the pictures and dang if they don't work like a charm. I just go out in the run area walk around like I'm lost, wait for the intended victim to come into range and I snag the by the leg. The first handful of ties I snagged one I was so surprised it worked they got loose but not anymore. The secret I found out is to never stop the motion. Once snagged bring that sucker right on back and up and grab it by the legs. If I hesitated the chicken could back up and get loose.
Pretty slick. Here's a couple pics and a write up on the how to.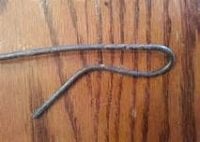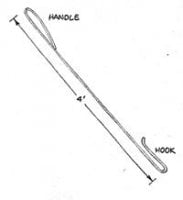 A Simple Chicken Catcher
To butcher a chicken, first you have to catch it. Unless you take it off the roost at night, this first step in butchering should not be taken for granted. You can chase the chickens around the coop trying to corner one, raising dust and pandemonium, stumbling, perhaps falling among the squawking biddies. Each subsequent attempt at capturing becomes more difficult as the chickens get wilder and warier. Both you and your flock get bruised and hypertensive in the process.
There is a time-honored, easier way. Cut a piece of heavy wire about 4 feet long. No. 9 will do, but heavier stuff is better if you can find it. Bend one end around into a longish loop for a handle and bend the other end into a hook shaped like the one in the drawing. The width of the hook at the closed end should be about the width of your little finger or the approximate width of a chicken leg, opening wider at the mouth of the hook. Then all you do is walk quietly to within striking distance of your unsuspecting feathered friends, hook a leg, and all in one motion, pull the chicken toward you. While keeping tension on the leg with the hook, grab the leg with your free hand. Works like a charm.
The complete article is
here
.