Hi everyone,
So 52 days ago I put 3 emu eggs in my hovabator at 95-96 oF with 30-35%RH. I turned the eggs at least 7 times a day for 1st. month. Well needless to say all 3 eggs are shaking bigtime today and I got my first internal pip with chirping. Any idea how long the emu chick will take to go from internal pip to external pip. BTW the two eggs that are touching eachother seem to be synchronized. Any comment would be appreciated.
Cheers and Goodnight.
P.S. Also, how long before I can feed them after they hatch. I read in a bunch of pages that they shouldn't be given food for a few days. I always thought that was a rationalization for not feeding chicks before shipping. Any thoughts?
This is how I stored my eggs for a week before I put them in the bator. I turned them 3 times a day. The eggs went directly on the wire floor in my incubator, no cloths or anything. I put a number on each, the day of lay in January, on a small piece of painters tape. They never came off.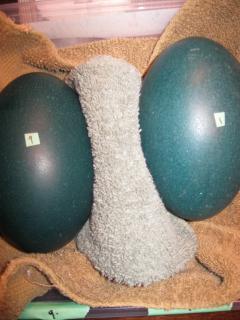 gp
Last edited: