Sep 2, 2018
7,851
29,173
1,297
My Coop
Hi Friends!
Just looked into the duck-house and found our first egg.
No idea who laid it, my primary suspect is Katharina because she's the largest duck, Curiosity and NoName are smaller. One healthy egg, perfect size, a little larger than a chicken egg from the store: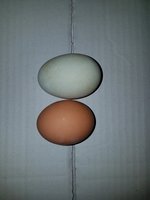 Now we're talking business Duckies!