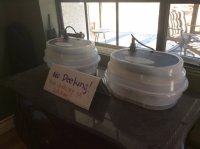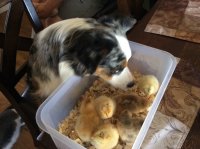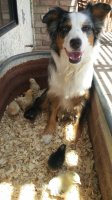 Hi everyone!
I've been looking for a long time. We purchased chickens about two years ago we have an Americauna rooster, 3 Buff Orpingtons, 2 Americuanas and two Road Island Reds. We had anotherr rooster for a while, and apparently, two of my eggs that I incubated were his.
I purchased two small incubators with auto turners about a month ago. We incubated 9 eggs in each. 13 eggs hatched. Six were not fertilized. Unfortunately, the day they started hatching, my cat knocked the incubator over. And try as I might, I lost three babies that might have made it otherwise. Hard lesson learned.
My Aussiedog Bonnie thinks they are her babies.