Whew, I feel like I finished a marathon. We got the cinder block foundation in the ground and finished cutting, painting and assembling the framing!
Please tell me that there isn't that much left to do? I seriously underestimated how long it would take us to get this much done and now I am dreading how much more there is to go. I figure, the roof, the hen house, and hardware cloth coverage are the biggest time killers left. For those that have built a coop before, what percentage of the way done am I?
Also, if anyone has any great suggestions for how to arrange a 4x8 hen house I would love any ideas! My current thought is to put the nest boxes on one 4' side and run the roost along the 8' side. It can go over the nest boxes as I want a poop tray under the roost.
I just want to say how much I appreciate everyone posting in this forum. This site has been incredibly helpful.
Jenn
Front view, coop is left segment 4' high and 2' above ground, door is second from right segment. We were one cinder block short and will have to add it in the future.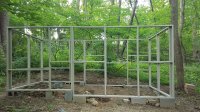 Right side view from outside, run area.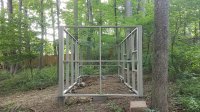 Left side view from inside, coop area.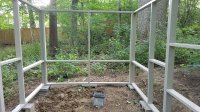 Our multi-level dropdown to handle my worries about the hillside slopage
View of foundation across backside of run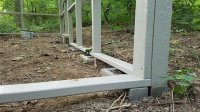 My awesome painting area that was inside, air conditioned, out of the rain, and lit at night. Best idea ever!
My wonderful husband and daughter "enjoying" some quality time on Father's Day making my coop