Howdy, y'all! My name is Angela and I was adopted by a chicken about a month ago. That may sound strange, and indeed it actually is. To be clear, I never wanted to be a chicken keeper. Two reasons: 1) I am immensely lazy and 2) I am vegan, therefore chickens are not really my thing*.
* No judgment; you do you, boo.
(1) Are you new to chickens / when did you first get chickens?
About a month ago I discovered a
random
hen living in the space
under our house
. She, like some of the other birds in the area, was feasting on our kitchen scraps (casually thrown into the backyard, because I am also too lazy to compost). Now, I know my neighbours, since this is a rural area. NO ONE has chickens.
Except apparently me. So yup, I am new to this.


(2) How many chickens do you have right now?
One. I named her Daisy. I intend on adopting some chickens in the near future, once I have a chicken coop.

(3) What breeds do you have?
I think, and I can't be certain, that she is an ISA Brown.

(4) How did you find out about BackYardChickens.com?
I found BYC after frantically Googling how to care for chickens, what chickens eat, lost Chickens Redlands area, etc.

(5) What are some of your other hobbies?
I am a gigantic nerd-geek, therefore I play an obscure MMO and Pokemon Go. I like to go Geocaching in cooler months. Eating pizza is also a hobby. The best kind of hobby.

(6) Tell us about your family, your other pets, your occupation, or anything else you'd like to share.
I am a cat parent to Theo, full time, "mature age" student studying towards a teaching degree, and I am an old soul that likes crochet, knitting, macrame and art journalling. I like dad jokes.
I decided to join today for two reasons - 1) Daisy made one heck of a weird looking egg today (assuming/hoping excess calcium - she did have a tablespoon of yoghurt as a treat yesterday) and 2) a goanna may have given me a heart attack when I looked out my window. I am not cool with adopting a goanna or having one near Miss Daisy.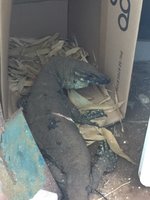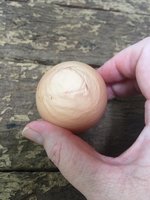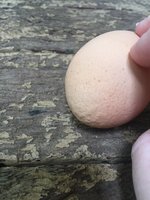 So, hi! Nice to meet you all. Anyone want a goanna?