my little "henrietta" is acting lethargic, and is very skinny. i have checked her crop and it is not emptying! she is eating, but literally skin and bones! the only thing i could think of is worms, or sour crop i have given her some Wazine 17 wormer and am hoping for the best. she has been like this for a while, but i just now realized it was this bad, although it could have been a number of things: she is getting ready to molt, she has recently had lice, and now she either has worms or a crop issue!!! talk about a triple whammy! i will try to get a picture soon. but any advice on any other things i should be doing? i will also include some information about her:
1) What type of bird , age and weight. mixed breed, brahma/silkie. approximately 5 years old. don't know exact weight but she is really skinny and a lot lighter then normal.
2) What is the behavior, exactly. lethargic, and you can tell she feels bad.
3) Is there any bleeding, injury, broken bones or other sign of trauma. none
4) What happened, if anything that you know of, that may have caused the situation. first she had lice, now she is having a large molt.
5) What has the bird been eating and drinking, if at all. she has been drinking a little water and eating a mix of layer mash/scratch and i have given her some lettuce which she has eaten.
6) How does the poop look? Normal? Bloody? Runny? etc. sticky, smelly and green. i have to wipe it off her butt
7) What has been the treatment you have administered so far? wazine in her water,and apple cider vinegar.
8 ) What is your intent as far as treatment? For example, do you want to treat completely yourself, or do you need help in stabilizing the bird til you can get to a vet? there is no vet around here, and i could not afford that anyway. i intend to treat her myself.
9) If you have a picture of the wound or condition, please post it. It may help. pics below.
10) Describe the housing/bedding in use. straw
hope you guys can help, thanks.
this is her bone right under the skin. you can see how skinny she is
here is a pic when i first realized she was sick (she looks a lot worse now)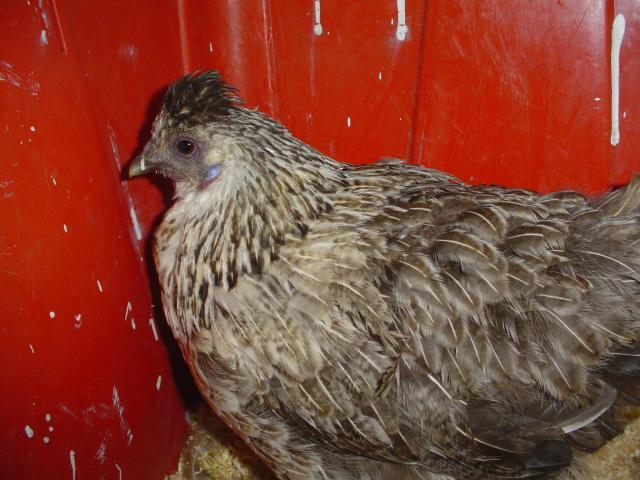 this one isn't that good but it is a full body pic i took today
Last edited: