Hello, Long time follower, relately new member. Sorry but I "wrote a novel" so you can
TL;DR Read the Bold
We have a small flock, it was 5 for a while, but we had a day were the temp dropped to 37F and the next morning (sept 19th) found an easter-egger hen had died on the roost. No visible injuries but we did notice she was lighter than the rest of the girls. Our
6mo old Plymouth Barred Rock also started drooping her right wing and seeming weak
that day, and while we didn't have a weight for her previously, she weighed 3lbs and the rest of the girls (different breeds, same age) were around 4.5, and she had previously been our biggest so we figured she had to have weighed 4.5-5lbs before she got sick.
She also had a poopy butt, and food seemed to go through her undigested (whole kernels of the thawed frozen sweetcorn, whole black oil sunflower seeds, course grainy poo compared to the others.
They have free access to oyster shells as well as purple probiotic "chick grit."
We had actually
been treating for Coccidia with CORID
because the barred rock's poop was weirdly wet, at a rate of 2.5grams / gallon (the middle rate) so we thought that it probably wasn't Coccidia, and
started treating with Safe-Guard
at a rate of 0.68ml per day soaked into oatmeal. Dosage seems to have a wide range, so dosage came from
http://www.poultrydvm.com/drugs/fenbendazole
and calculations confirmed via
https://reference.medscape.com/calculator/650/weight-based-medication-dosing
. It does seem as though the acceptable range is 0.27-0.68mL daily.
We treated for 5 days, Sept 21st - 25th, and
she improved.
The droop went away and while she didn't flap her wings, her comb was also looking redder. We
started the second treatment
Oct 8-12th, but since we were going the vet anyway on the 10th for our dog I brought a baggie of chicken poo and convinced them to
fecal float
it (35$) which they didn't want to do previously "because the chicken wasn't a patient there," and they couldn't get in new patients until November.
We got the results on the 12th, and
the vet said no worms, but there were Coccidia.
I figured there wouldn't be worms because I was 2 days into the fenbendazole treatment, but we stopped the second round of dewormer and started CORID again, at the higher dose of 4.5g per gallon per
https://www.backyardchickens.com/threads/updated-corid-and-amprol-amprolium-dosing.818879/
(made with 1.1g/quart daily).
We ran that CORID treatment for from the 13th until the 18th, and things seemed to be looking good but her
poos were still sorta wet.
Friday the 23rd was 82F I gave her another bath, and trimmed her tail feathers so she could keep her butt clean, which seems to have been a success. She still had the wet poos so we tried giving her the
second wave of CORID (5 days after last) via food
instead of in the water. I used a bunch of different calculations and came up with
0.2g of CORID powder
, which should be 50mg of amprolium, in some oats, which is the same amount they would get from ~3/4 cup of treated water. I may have gotten carried away because I also added maybe a tablespoon of yogurt "for probiotics" and some of the warmed mash + yogurt I made for the other girls so they would leave me alone to feed her, so she ate 2/3rds of the dish, and the last part maybe 2 hours later.
I don't know if it was the yogurt, or the CORID, but she did had
some diarrhea
after that (I can't remember when, I didn't write that down), and started going downhill again when the temps dropped on Saturday the 24th. That night
she fell 1' off the ramp
to their hen house when she tried to get down, and couldn't stand up again. She did stand when I helped her up, but I put her directly into the hen house and she pretty much stayed put that night.
Sunday I fed her more egg/spinach/sugar/oats, but she doesn't seem to want to be alone in the hen house even though it is warmer, she leaves it on her own if she can. She does leave on her own each morning to eat and drink with the other girls, but
her wings are drooping again, she is unsteady, and her comb is paler.
She
seems to be improving again
, slowly, but I don't understand why
her poo is so wet and so green
, or if that's a bad thing, so I'm hoping to get some advice before I shell out a few hundred to the vet to check.
Her poo looks very wet compared to the other girls, and has for some time now. It is also rather green: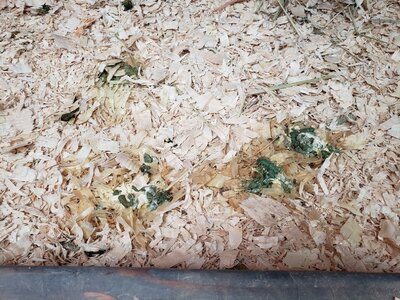 Today I bought a 5lb bag of Gamebird Showbird starter grower (24% protein) and made a little warm mash for her twice, she also ate it plain from her favorite feeder.
She continues to eat and drink, but mostly stands around between eating vs the other girls exploring constantly. She seemed like she weighed more today than she did Saturday night.

Its getting colder here so I'm trying to make sure she gets healthy and puts on weight as quickly as possible, is there anything else I should be doing or testing for or treating for / with?
Would the Fenbendazole have helped with coccidia?
Should I go to the vet to get something stronger for the Coccidia like Sulfadimethoxine?
Should I just keep waiting with the current treatment of CORID treated water? For how long and dosage?
1) What type of bird , age and weight (does the chicken seem or feel lighter or thinner than the others.)
~3-4lb, 6 month old Barred Rock
2) What is the behavior, exactly. -
Weak, Drooping wing, seems unbalanced, moves wings to stretch and preen, but won't flap them / jump onto roosts.
3) How long has the bird been exhibiting symptoms?
Intermittently for a month now, see above timeline, most recently weak for less than a week
4) Are other birds exhibiting the same symptoms?
other birds seem fine
5) Is there any bleeding, injury, broken bones or other sign of trauma.
6) What happened, if anything that you know of, that may have caused the situation.
7) What has the bird been eating and drinking, if at all. -
16% Layer feed, scratch, eggs, oats, water, CORID+water, I just bought "Showbird grower" to try to help her recover.
8) How does the poop look? Normal? Bloody? Runny? etc.
Poop is usually solid, but very wet compared to the other chickens, see photo
9) What has been the treatment you have administered so far?
CORID and Fenbendazole
10 ) What is your intent as far as treatment? For example, do you want to treat completely yourself, or do you need help in stabilizing the bird til you can get to a vet? The Vet said they wouldn't run a fecal float again without seeing her, so if I need meds I can't buy without the vet we will try to get an appt.
11) If you have a picture of the wound or condition, please post it. It may help. no wound
12) Describe the housing/bedding in use -
18x6' run, 6x6' hen house inside the run, 6"+ of pine shavings + DE, very dry. I changed out most of it with fresh on the 23rd.

Thanks!