Never in my wildest dreams would I think that my world would become focussed around ducks and chickens! Especially ducks...
It all started so innocently. I heard that a duck guy and his kids were culling their drakes and offered to take 2 off his hands. Just for decoration in the yard, of course. I was happy with my small flock of chickens but wanted a bit more variety. The white drakes, named John and Tim after a wonderful couple in town, were happy in their new home and all was well. Until a raccoon asked Tim out for dinner, with Tim being the dinner!
Poor John was devastated, all alone. Then he started palling around with my 3 pullets. They went everywhere together. When the pullets wanted to roost up high, John would wait for them.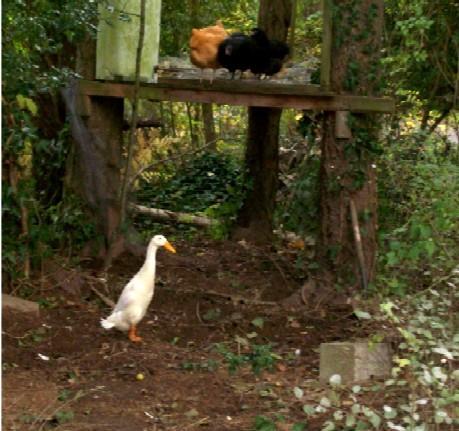 But John's hormones kicked in and soon he was doing what drakes do best. Unfortunately there were no ducks around so he chose his former BFFs as his victims.
So I got in touch with the duck guy. Yes, he would give me a hen duck but he only sent them in pairs. So Victoria and Albert came to my Vast Estate.
Still, John continued his almost incestuous behaviour with the pullets.
So I went to a poultry swap to get some more girls for him. No ducks there although I came back with 2 mutty hens who had just started laying.
Eventually I found another girl, then a couple of weeks later got 3 more. Except one turned out to be a drake. The seller was happy to trade back, but when she told me the drake would go straight from my place to the pot I offered to keep him.
The count at that point was 3 drakes, 5 ducks. Not to mention my 10 chickens, 5 of which are semi-retired.
But wait! Somewhere in that timeline was the purchase of an incubator and the subsequent hatching of 3 little ducklings on June 10/11.
John continued his wayward behaviour, despite the fact that I trained my Jack Russell mix to chase him when he mounts the chickens.
Last week I put an ad on our community mail list. Selling a white runner drake. Not John, Albert. The first person who replied said he didn't know what a drake was, but figured it was some kind of duck and he would like to try ducks. Forget it! Next reply was from a well-respected farm saying, "We'd love to take him!" I wrote back immediately, offering Victoria as well - a sort of buy-one-get-one-free deal.
I took them up to the farm on Wednesday and was delighted with the crazy mix of dogs, kids, animals of all sorts.
So now I have 6 ducks, 10 chickens, 3 dogs and the 3 little duckies who still live inside.