Hello! Can anyone assist with identifying a chicken breed and gender and also the genders of the following bantams? I'd be so grateful! Below, there are photos of 5 individual birds.
The first bird (named Blueberry) was sold to us by Ideal Poultry as a red one-day old silkie. We knew this wasn't correct, even then, but we were stuck. Any ideas what this bird might be? It seems to be a bantam. 9.5 weeks old. Her tail feathers seem to have some iridescent green in them.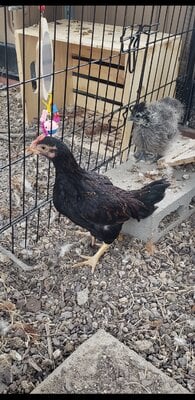 This is our cochin bantam named Scoot. 9.5 weeks old. Can anyone tell the gender on this one? (2 photos)
Here is our bantam brahma named The Colonel. Any ideas on gender? 9.5 weeks old. (4 photos)
The next two babies are 7.5 week old silkies named Sparkle (Black Silkie) and Ruby (Blue Silkie). No clue what gender they are - ideas?