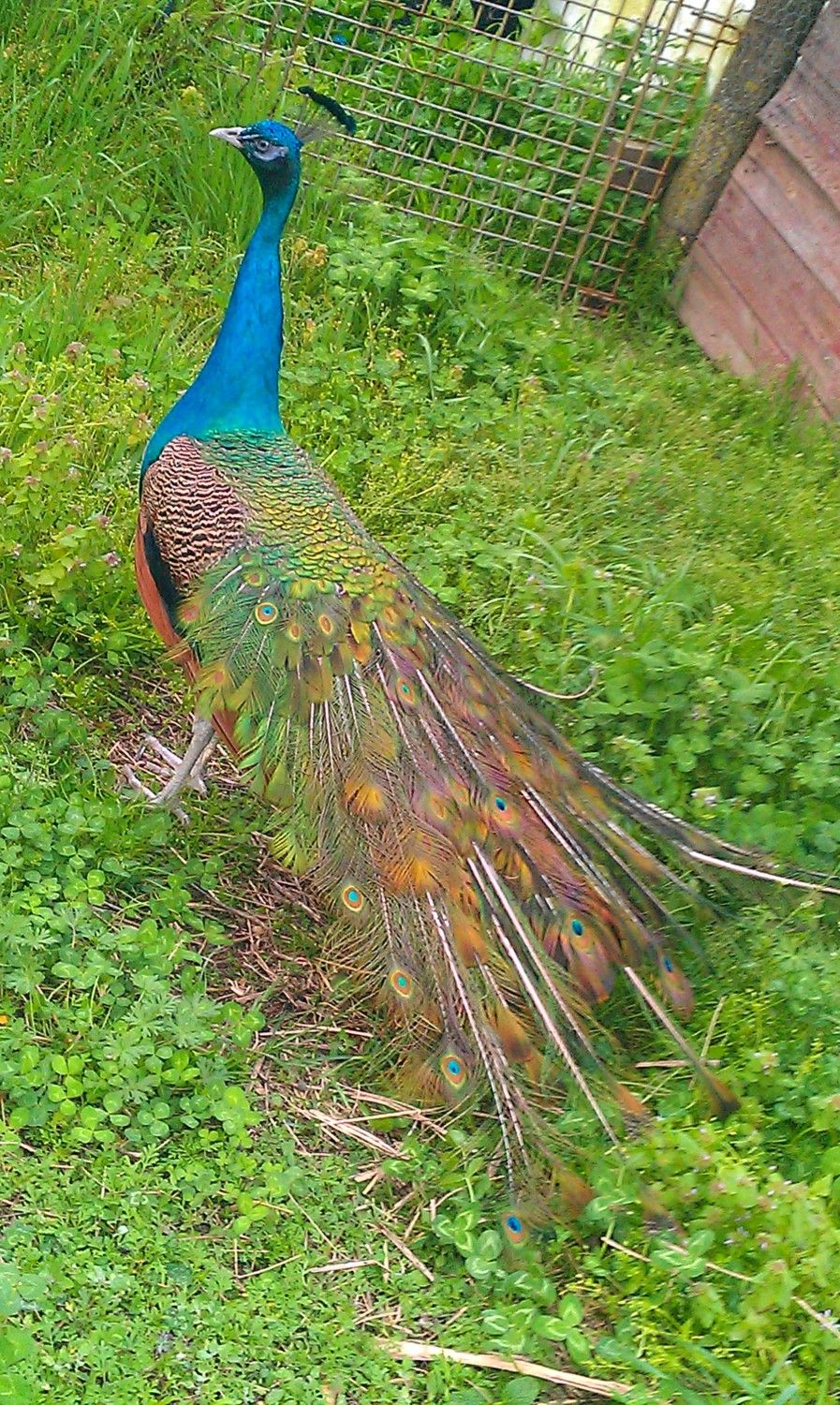 ​
I went to an auction and bid on two peachicks and a turkey (they were in the same lot). I won and was giddy to bring home my new peachicks, that was about 2 years ago. About a year after I figured out that I had a matching pair of Blue India Peafowl. I was SO excited to have a pair and was excited about hatching eggs in the future. One night a predator got into the coop and killed several of my chickens AND my peahen. I was devastated but relieved to still have the peacock. I put him in a more secure location and he faired well, until this year. I made him a nice outside pen attached to his coop and he would come out for about 10 minutes a day. I figured since he was so shy I would open the pen an let him roam to yard for bugs...
Well, he took off on me. He went MIA for about a WEEK AND A HALF! Then, the other day I spotted him walking down the road in front of our house. I ran out and caught him. I put him in his coop pen and he attacked the sunflower seeds and Flock Raiser that I had set out for him. It was like he hadn't eaten the whole time he was gone (I know he ate, but he sure did miss his normal feed!). Well, I had to run to town and shut him up in the pen. When I got back he was walking around the yard. It was dark so I didn't want to chase him to catch him and then loose him in the woods, so I herded him towards the coop and he roosted on the roof for the night. Then next morning he was gone. A day later I herd him in the trees down the road. I tried to get him but he was too far up. So, I left him alone and left his food out next to his old coop. The next day he was back in our yard hanging out. Its been about a week since he came back for good and he enjoys relaxing by my turkey's pen by the woods, he seems to have taken a liking to my Royal Palm Tom. He will walk around the yard and eat bugs and weeds around 5:00PM every night and go down to the area around the coop to get his feed and then up in the trees he goes for the night. I was sure that he was GONE for good the first time he left me and now I am SO excited that he has stayed with me even though he is loose. I am planning a LARGE (more secure) coop and flight pen for him and I can't wait to get a couple peahens for him. I know he misses the peahen I lost a year ago.
I am SO thankful to God that he came back. I was praying that he was safe the entire time he was gone! I hope to have MANY MANY more years with him, he is by far my FAVORITE bird that I own!
Kelsey aka Rural Mama
http://ruralmamasandbox.blogspot.com