Hi there all you people of BYC!
I'm Anna, I'm 23 years old, married with three little kids and we live in BC, Canada
. let me tell you a little bit about me and my backyard chickens !
My first memory of chickens is my mom running outside to chase off hawks from her golden sebright bantams. Or her telling me to go collect the tiny eggs from the coop, the grass cool on my bare feet, wet with the morning dew, and the morning sun warming my back. They were such cool little birds but unfortunately her flock slowly got picked off one by one.
In my teenage years , I worked on a dairy farm where the chickens free ranged and often came pecking and scratching in front of the milking parlour. My employers wife would often come into the parlour with a chicken tucked under her arm, offering it out to me to hold/ pet. She, like my mom , also had a bantam golden sebright. She was the most petite little thing and her name was Sweet Pea. Here she is interrupting my work
Here is another picture of me(on the left) and a coworker, holding some of the chickens at the dairy farm. We often took "breaks" to catch a chicken cuddle.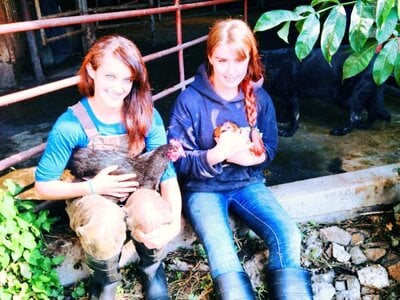 I also had pilgrim geese and Cayuga ducks for a short time as a teenager, until my dad decided they were too messy.We also had rabbits, guinea pigs and Pygmy goats
My first flock as an adult consisted of bantam birchen Cochins, speckled Sussex and Houdans. I like all those breeds so much. Hopefully some day again. We unfortunately had to move and I had to get rid of my birds.
Now we are at a place where we are permitted to have backyard chickens and I have a beautiful mixed flock of 12 birds. We have a few mixed birds or "mutts" and also a polish, a crested cream legbar, two light Brahmas, and five salmon Faverolles.
I will tell you a bit about each of them in the following posts.
Here is me, now at 23, with my beautiful Salmon Faverolle rooster , Jean-Claude.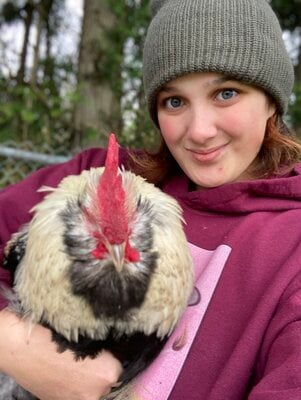 If you wish , you can also follow along on Instagram @mybackyardshenanigans
Also, please share your favourite breeds or individual chickens ! And what your dream flock would consist of
Last edited: